Mondo Reveals Six Posters For 'Ducktales'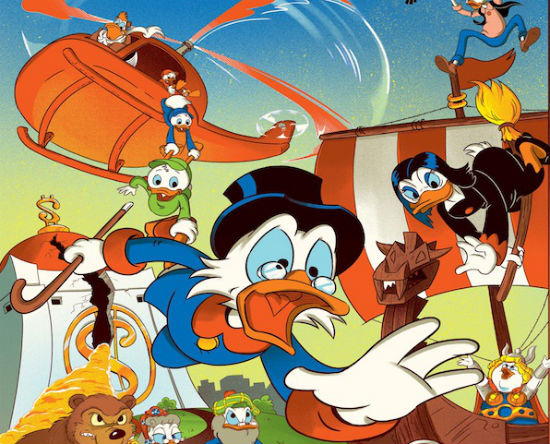 It seems like just last week when we saw our first limited-edition screenprint for Ducktales. Actually, it was three weeks ago. But Scrooge's money pit has opened and Mondo is celebrating everyone's favorite '90s Disney cartoon, and the recent video game re-release, with six brand new posters. Check them out below.
Here are the six posters Mondo will be releasing Wednesday August 28 via @MondoNews.
Here's the info on each piece.
 JJ Harrison. 24"x36" screen print. Hand numbered. Edition of 240. Printed by D&L Screenprinting. $50
DKNG. 18"x24" screen print. Hand numbered. Edition of 190. Printed by D&L Screenprinting. $45
DKNG. 18"x24" screen print. Hand numbered. Edition of 100. Printed by D&L Screenprinting. $65
Anne Benjamin. 18"x24" screen print. Hand numbered. Edition of 160. Printed by D&L Screenprinting. $45
Phantom City Creative. 18"x24" screen print. Hand numbered. Edition of 140. Printed by D&L Screenprinting. $45
Phantom City Creative. 18"x24" screen print. Hand numbered. Edition of 75. Printed by D&L Screenprinting. $65