Cool Stuff: Odd City Celebrates 'School Of Rock' 10th Anniversary With Limited Edition Poster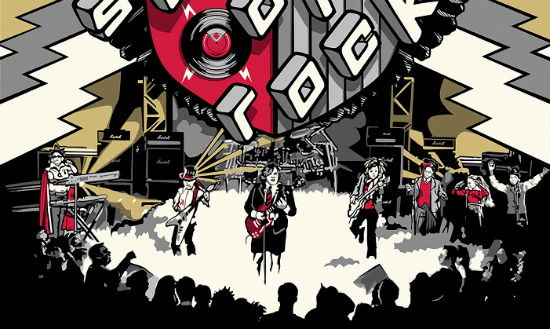 Richard Linklater gets lots of love for his smaller movies like Dazed and Confused, Before Midnight, Bernie and Waking Life. Rightfully so. But one of his films that is sometimes overlooked is also, by far, the biggest grossing film of his career. That would be 2003's School of Rock.
Written by Mike White and starring Jack Black, the film follows a slacker who poses as a substitute teacher, then turns his class into a world-class rock band. It's one of those crowd-pleasing films that don't really exist anymore; I dare you to turn it off if it's ever on cable. The film's 10 year anniversary is coming up in October and, to celebrate, Odd City Entertainment has commissioned artist NE to immortalize the film in screenprint. It'll be exclusively available at an Austin-based anniversary screening of the film.
Check out the poster, and how to get tickets, below.
Here's the regular and variant editions of School of Rock by NE:
Each poster is an 18 x 24 inch, six color screen print. The regular is an edition of 175 and costs $45. The variant is an edition of 75 and costs $65.
The posters will be sold at the Paramount Theatre during the Austin Film Society 10 year anniversary screening of School of Rock at 7 p.m. Thursday, August 29th. Jack Black, Miranda Cosgrove and the entire band will be there. I'm so jealous. Tickets can be purchased here: http://www.austintheatre.org/site/Calendar?view=Detail&id=35341. Some proceeds go to austinfilm.org.
I have incredibly fond memories of this movie, saw it multiple times in theaters and still crank my iPod when any of the soundtrack comes up on a shuffle. What are your thoughts on the film?