'Captain Phillips' International Trailer: Tom Hanks Faces Trouble At Sea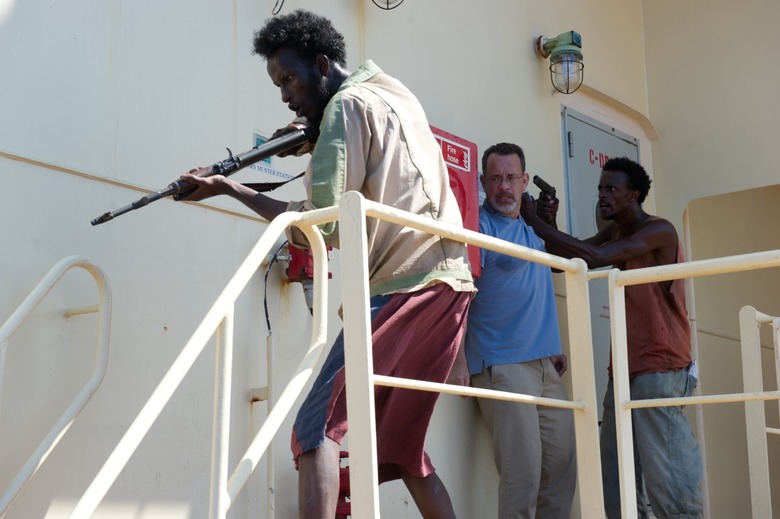 These days, the word "piracy" more readily brings to mind tech-savvy downloaders scouring Google than dangerous criminals sailing the high seas. But in 2009, the capture of the MV Maersk Alabama by Somali pirates served as an unhappy reminder that the latter kind haven't entirely disappeared.
Paul Greengrass' Captain Phillips chronicles the dramatic hijacking and the events that followed, with Tom Hanks in the title role. The newest international trailer features just as much intense action as the earlier domestic ones have, but also offers some more insight into Phillips' personal life. Check it out after the jump.
[via Digital Spy]
Greengrass' grounded approach seems really effective here. Hanks is perfectly cast as an ordinary, decent man, and the fact that he's no superhero action star makes his predicament that much more compelling. The Somali pirates aren't evil villains, but desperate people with depth and personality. Barkhad Abdi, who plays leader Muse, seems especially charismatic. The action, too, looks even more exciting for being so realistic.
Captain Phillips opens October 11. Billy Ray wrote the screenplay based on the memoir by the real Captain Richard Phillips.
Columbia Pictures' action-thriller Captain Phillips stars two-time Oscar® winner Tom Hanks in the true story of Captain Richard Phillips and the 2009 hijacking by Somali pirates of the US-flagged MV Maersk Alabama, the first American cargo ship to be hijacked in two hundred years. The film is directed by Oscar® nominee Paul Greengrass, from a screenplay by Billy Ray and based upon the book, A Captain's Duty: Somali Pirates, Navy SEALs, and Dangerous Days at Sea, by Richard Phillips with Stephan Talty. The film is produced by Scott Rudin, Dana Brunetti, and Michael De Luca.