How Ben Affleck Was Cast As Batman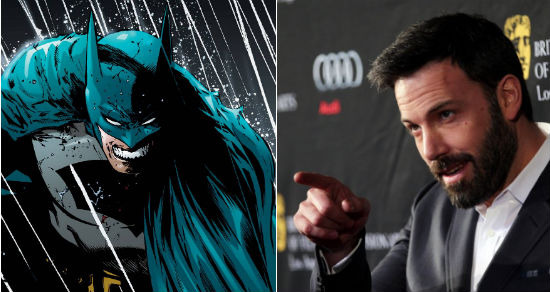 After the stunned reaction to Thursday night's news of Ben Affleck being cast as the new Batman, everyone was filled with questions. Plenty about the film itself, of course, including Affleck as well as director Zack Snyder's take on the character, but the behind the scenes stuff too. Like how did Warner Bros. keep a bombshell like this so quiet? How long did Affleck know, and will he play the character for more than one film?
The race for that story was likely very competitive Friday, and the winner is The Hollywood Reporter. They've got the first insider's take on how Ben Affleck became the new Batman in the Man of Steel sequel, Batman vs. Superman.
Here's just a small excerpt from the Hollywood Reporter article explaining some of the behind the scenes dealings.
Sources tell The Hollywood Reporter that the process began earlier this year when director Zack Snyder had finished working on Man of Steel with producer Christopher Nolan. Snyder and the studio already had ideas for a follow-up, and Snyder reached out to Affleck to check the star's interest.
It's unclear when these talks began. Multiple sources say the studio approached Josh Brolin, as well as other actors. Ryan Gosling was also a possibility, but the actor dislikes the idea of sequels.
But Affleck was curious, and initial talks focusing on story and character began. Once Affleck was satisfied, WME's Patrick Whitesell and Ziffren Brittenham's Sam Fischer began negotiating his role in the Superman sequel. Sources say that Affleck has been signed for multiple other movies. The talks were so secretive that many Warner execs and most WME agents remained unaware of their existence.
The story goes on to say that Affleck has indeed signed for multiple films. One would assume those include Justice League and, eventually, some standalone movies. No concrete number of contracted films has been made public though and, to be fair, Deadline believes he won't make a standalone film at all. They believe, as does THR, part of the attractive nature of the role for Affleck is that he's not carrying the franchise. (Don't forget he did say he wasn't working on Justice League a few months back.)
As the weeks, months and eventually years unfold on the way to July 17, 2015 we'll certainly learn much more about Affleck and Warner Bros.' decision. Before Affleck even thinks about a cape and cowl, he'll star in David Fincher's Gone Girl then shoot his directorial follow-up to the Oscar-winning Argo, Live by Night. Those projects are both scheduled to happen before Batman vs. Superman starts production next Summer, according to the Los Angeles Times.
Head to any of those three links for very interesting analysis of the move. Do you think Affleck will be around for more than one movie? Will he direct Justice League as originally rumored?