Watch An Exclusive Clip From 'I Declare War'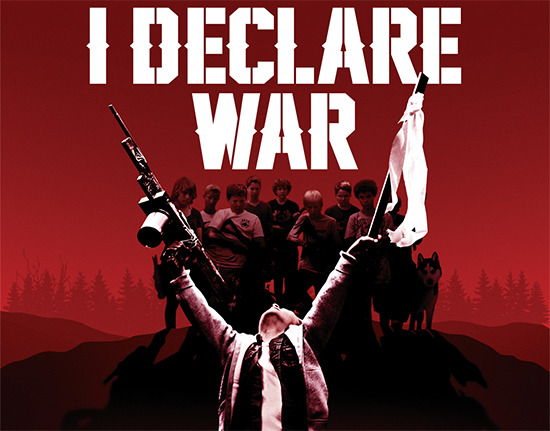 I Declare War is a great indie that takes an unusually perceptive look at the games kids play, and how they can be a lot more than a simple way to pass time. The film follows two factions of kids playing "war" in the woods, and sees the game through their eyes — so sticks and balloons used as weapons are visualized on screen as guns and grenades.
Sure, it's all a game, but the meaning behind it, and the ways the kids interact as they try to nab a win, turns into pretty big deal for each one as they try to forge and fit into friendships.
The film made its debut at Fantastic Fest last year and is on VOD/ iTunes/ digital download now, and in theaters on August 30. We've got an exclusive clip below.
So this shows a third act scene that is fairly revealing from a plot perspective, but doesn't actually give too much away about the characters. To set this up, Altar Boy, in the white shirt, has been left to guard his team's base. As he sees Joker approaching, things get complicated when Joker's teammate Jess approaches.
As mentioned, because that clip is from the film's third act, here's a simple re-post of the trailer for those who might be interested in the film but don't want to see a sequence from late in the story.
Drafthouse Films is releasing I Declare War. You can find more info and showtimes here.
Armed with nothing more than twigs, their imaginations and a simple set of rules, a group of 12-year-olds engaged in a lively game of Capture the Flag in the neighborhood woods start dangerously blurring the lines between make-believe and reality.  Rocks = Grenades.  Trees = Control towers.   Sticks = Submachine guns.  The youthful innocence of the game gradually takes on a different tone as the quest for victory pushes the boundaries of friendship.  The would-be warriors get a searing glimpse of humanity's dark side as their combat scenario takes them beyond the rules of the game and into an adventure where fantasy  combat clashes with the real world.