New 'Thor The Dark World' Images Show Malekith, Asgard, Loki, Heimdall, Frigga And Jane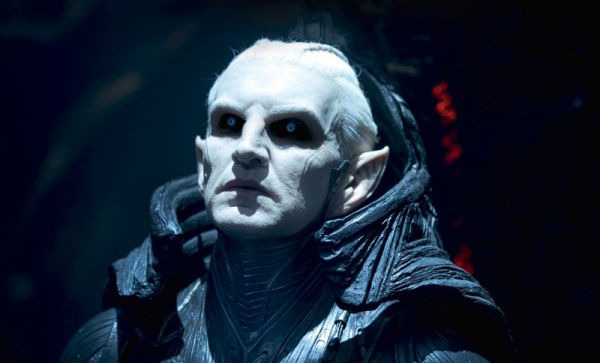 I don't know about you, but I'm getting pretty excited to see Thor: The Dark World. Where I felt the first Thor was just okay, after the character's emergence in The Avengers, along with the blossoming of his evil brother Loki, the prospect of seeing them both on the big screen again is quite exciting. And it's coming soon. Thor: The Dark World, directed by Alan Taylor, opens November 8.
Today, a whole bunch of brand new still images only add to that excitement. In them, you get a much closer look at Christopher Eccleston's bad guy Malekith the Accursed, some sweeping scenery and a few new glimpses of Chris Hemsworth, Tom Hiddleston, Idris Elba, Rene Russo, Natalie Portman, Kat Dennings, Jaimie Alexander and more to boot. Check them out below.
All these photos come from Empire Magazine.
Know who we haven't seen it (or maybe I just missed it?)  Adewale Akinnuoye-Agbaje and Zachary Levi. I wonder why those characters are being hidden.
Anyway, this movie just looks better and better the more we see. Here's the plot description.
Marvels "Thor: The Dark World" continues the big-screen adventures of Thor, the Mighty Avenger, as he battles to save Earth and all the Nine Realms from a shadowy enemy that predates the universe itself. In the aftermath of Marvels "Thor" and "Marvels The Avengers," Thor fights to restore order across the cosmos...but an ancient race led by the vengeful Malekith returns to plunge the universe back into darkness. Faced with an enemy that even Odin and Asgard cannot withstand, Thor must embark on his most perilous and personal journey yet, one that will reunite him with Jane Foster and force him to sacrifice everything to save us all.