'Homeland' Season 3 Trailer And Poster: Picking Sides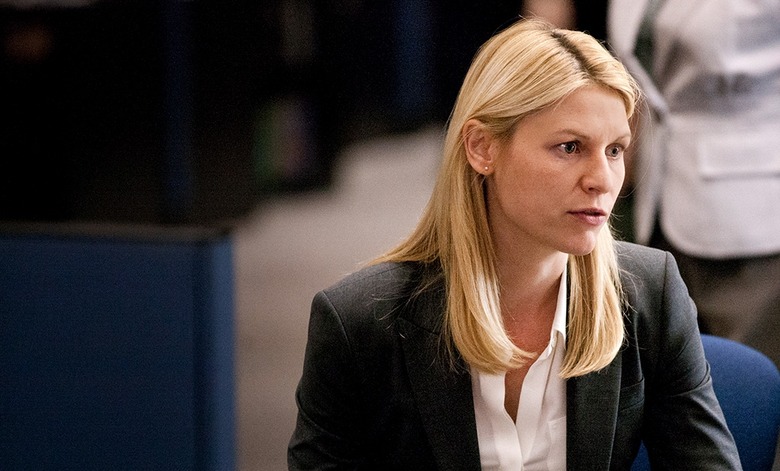 Loyalty has always been a major theme on Homeland. The entire premise of Season 1 was Carrie (Claire Danes) and Saul (Mandy Patinkin) trying to suss out just whom Brody (Damian Lewis) was working for. Things got more complicated still for Brody in Season 2, what with all the double- and triple-crossing. Now, in Season 3, it may be Carrie's turn to pick a side once and for all.
Showtime has revealed another teaser and a new set of posters from the next season of Homeland. The new tagline, "Pledge Allegiance," suggests that our main characters will have to take a stand — and, judging by the somber expressions on their faces, that it won't be easy for any of them. Hit the jump to check them out. (Spoilers for Season 2 ahead.)
But the new trailer isn't quite so literal. It communicates feelings and themes more than actual plot points, by using thoughtful shots of Carrie, Brody, and Saul looking pensive while a melancholy cover of The Cure's "Lovesong" by Adele plays in the background.
The posters portray Carrie as a woman caught between the two most important people in her life. For the most part, though, it sounds like the show will focus more heavily on her damaged relationship with her mentor. Producer Howard Gansa explained to Zap2It:
[Saul and Carrie's strained Season 3 relationship is] a game-changer, but it will see that the ramifications of what you've seen definitely play out downstream. The Saul/Carrie axis in some ways is every bit as the Carrie/Brody axis. I mean, he is her mentor, her father-figure, and she is his apprentice, disciple, daughter, and all those relationships are tested, are broken, are bent and in some ways this is the story of Carrie and Saul.
Homeland's third season premieres September 29.