Kevin Rahm Would Like An LA-Set 'Mad Men' Spinoff, Please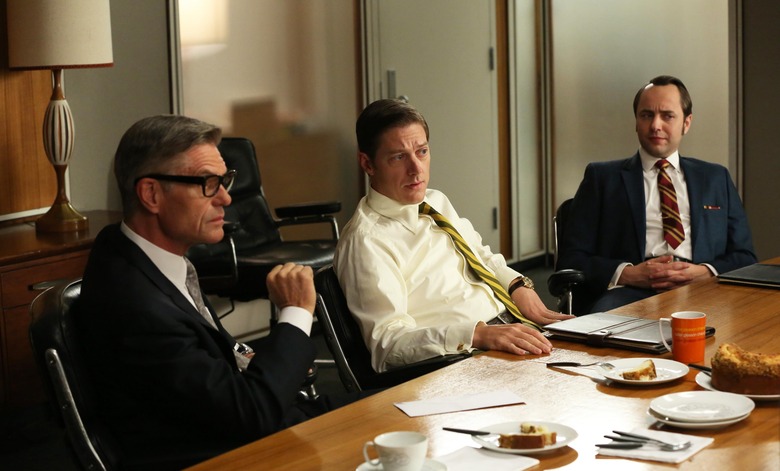 Breaking Bad isn't the only acclaimed AMC series on its way out. Mad Men is expected to wind down with the upcoming seventh season, due out in 2014. And as with the depiction of Vince Gilligan's drug underworld, Matthew Weiner's cutthroat ad industry could live on in the form of a spinoff. Or so hopes actor Kevin Rahm.
In a recent interview, Rahm floated the idea of a new series about the adventures of his character Ted Chaough and Vincent Kartheiser's Pete Campbell in Los Angeles. It's unclear whether anyone at AMC has actually given this some thought, or whether Rahm's just spitballing, but a post-Mad Men show set in '60s (or '70s) LA sounds intriguing either way.
Hit the jump to read his comments. Note: Spoilers for Season 6 follow.
However, Rahm knows what he wants to come of it. "I keep working a spinoff angle," he told E!. "The spinoff is me and Pete, The Odd Couple in L.A. but they're both dirty. Two Felixes."
This isn't the first time Rahm's mentioned the possibility. A couple of months ago, he jokingly suggested a Bosom Buddies-style sitcom to Vulture: "Pete Campbell and Ted Chaough, livin' it up. They have to dress up like women to live in the right apartment building."
It wouldn't be too shocking if AMC were considering the notion. Mad Men is the show that put the network on the map as a home for quality drama, and it still draws tons of critical buzz. But Weiner and AMC haven't mentioned anything, so right now Rahm's idea seems like more of a wistful "what-if" than a reliable indicator of future plans.
Besides, a lot could happen to Ted and Pete between now and the end of the series. Asked whether he had any idea whether the show was headed, he responded, "No. None." He added, "And I won't until I get the script. And then I can't tell you." Mad Men's seventh and final season starts shooting in November.
Discuss: Would you watch a Ted and Pete spinoff? If not, what other Mad Men spinoffs do you dream of?