'Wire' Actors Idris Elba And Michael K. Williams Join Cary Fukunaga And Spike Lee Movies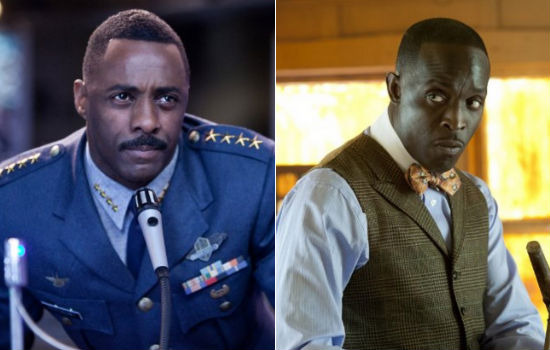 Two of the breakout stars from The Wire just landed new jobs with some modern auteurs. First up, Idris Elba (most recently seen in Pacific Rim) will star in Cary Fukunaga's (Jane Eyre) latest film called Beasts of No Nation. Next, Boardwalk Empire's Michael K. Williams is the second actor to join Spike Lee's still untitled Kickstarter film. Read more about both projects below.
UPDATE: Lee's film is reportedly called Da Blood Of Jesus.
Elba will both star in and produce Beasts of No Nation, according to Deadline. Based on a novel by Uzodinma Iweala, it follows a young West African man who is forced to join a group of mercenaries, of which Elba is the commander. Here's a more detailed description via Amazon.
In this stunning debut novel, Agu, a young boy in an unnamed West African nation, is recruited into a unit of guerrilla fighters as civil war engulfs his country. Haunted by his father's own death at the hands of militants, Agu is vulnerable to the dangerous yet paternal nature of his new commander. While the war rages on, Agu becomes increasingly divorced from the life he had known before the conflict started—a life of school friends, church services, and time with his family still intact. In a powerful, strikingly original voice that vividly captures Agu's youth and confusion, Uzodinma Iweala has produced a harrowing, inventive, and deeply affecting novel.
Spike Lee's Kickstarter ended Wednesday with $1,418,910 from 6,421 backers. Pretty nice. After reaching his goal, Lee revealed actress Zaraah Abrahams would star in the film and now he's announced Michael K. Williams will be in the movie. There's no word on what specifically the film is about, but Lee talks on the Kickstarter page how it's about "Human beings who are addicted to Blood. Funny, Sexy and Bloody." It should be out next year.
Both Elba and Williams have long since left The Wire behind them, each slowly crafting their own unique, awesome careers. These roles each being the latest. Nevertheless, they'll always be synonymous with the roles that gave them their start.
Update: The Playlist found this post where an actor revealed the film to be called Da Blood Of Jesus.