'Rambo' Will Attack Television, But Sylvester Stallone Won't Star [Updated]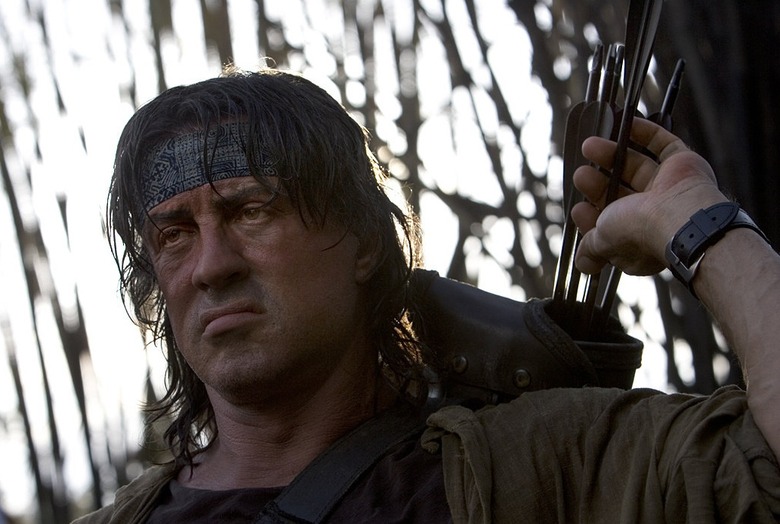 One of Sylvester Stallone's signature film series, Rambo, is trotting down the path to television, and Sly is in talks to consult and potentially star. Entertainment One and Nu Image, the company with which Stallone has worked on The Expendables films, will partner to develop and produce a TV series based on the character.
Update: Stallone's reps talked to THR, and were scornful of the idea of Stallone appearing in the TV series. The quote is below.
All we have on Stallone's participation is that he'll have a creative role, but that he could star as well. That would be an unexpected development; while many movie actors have been crossing back and forth between film and television for years, Stallone has always been a big-screen kind of guy.
But there has been a lot of on-again, off-again effort to develop a new Rambo movie, and perhaps this seems to all involved like the best path for the series. I can envision an episodic look at Rambo's wanderings back in America following his return home at the end of the 2008 film Rambo. (But then, having the guy fight a monster would be neat, too.)
There's no network home for the potential show at this point, but you'd have to assume it will end up being one that is OK with a pretty serious level of violence. There's also no word yet from Stallone's exclamatory Twitter feed; his last missive there was that presumed jab at Bruce Willis, issued weeks ago. [THR]
Update: While Stallone could have creative input on the show, his reps told THR  "he himself will not portray the character in the series, elaborating:
While a television series based on the Rambo property is in development with Entertainment One and Nu Image, contrary to reports, Sylvester Stallone will certainly not reprise his role as the iconic John Rambo for the small screen.