First Look: 'Game Of Thrones' Star Kit Harington In Paul W.S. Anderson's 'Pompeii'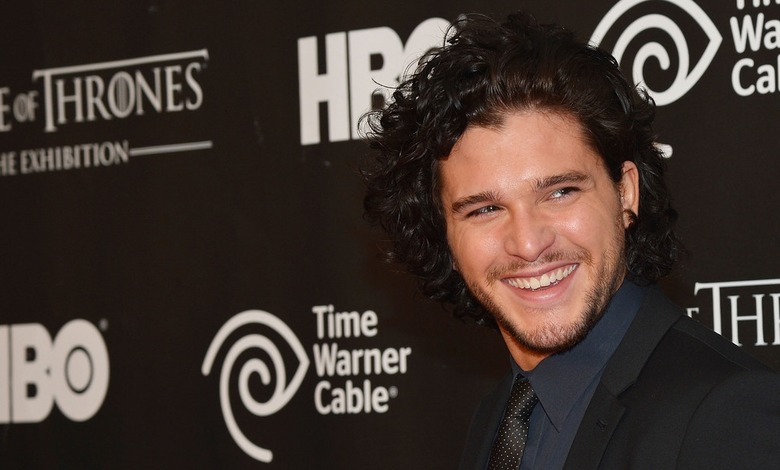 Kit Harington spends most of his screentime on Game of Thrones buried under a pile of furs, since it's cold and getting colder up beyond the Wall. But judging by the first image from Paul W.S. Anderson's Pompeii, his next movie project has him ditching the layers and baring some skin.
As you can probably guess by the title, the 3D period epic leads up to the historical eruption of Mount Vesuvius in 79 AD. Harington plays Milo, a slave turned gladiator who falls for a beautiful upper-class woman (Emily Browning), which I suppose makes this a sort of ancient Roman Titanic. Hit the jump to get the first peek.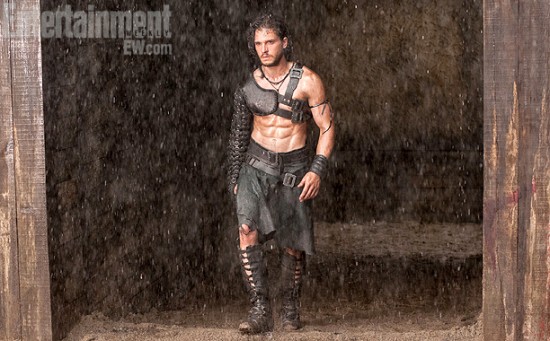 Harington explains what we're looking at in the picture:
This is the first scene you see me in. It's set in London, in fact, and it's a scene where my character is a gladiator fighting in an arena. That's his gladiator look. It's a great little fight against three masked gladiators and sets up who he is and where he's going. You see me display my skills quite early on.
The skimpy outfit isn't Milo's usual look, however. "It's a costume I don't actually wear for the rest of the film, but it's an establishing one," Harington adds. The character shares Jon Snow's brooding tendencies and fighting skills, but unlike Ned Stark's famous bastard, Milo is motivated more by vengeance than honor. "He's an angry, angry man who doesn't care what he does. For a large part of the film, he's driven by pure rage."
London is just one stop on the long journey for Milo, a Celt who was enslaved as a child. He eventually winds up in Pompeii, where he falls in love with Cassia (Browning). Jared Harris (Mad Men) plays her father and his master, and Kiefer Sutherland stars as a villainous Roman senator. (Though in the end, you'd have to think the volcano is the ultimate baddie.) Carrie-Anne Moss and Paz Vega also star.
Anderson's had his share of misses, to put it politely, but at least his decision to channel Roland Emmerich and James Cameron in Pompeii sounds like a good idea on paper. Pompeii hits February 21, 2014.