Sony Partners With Ubisoft To Make Movie Based On 'Watch Dogs' Videogame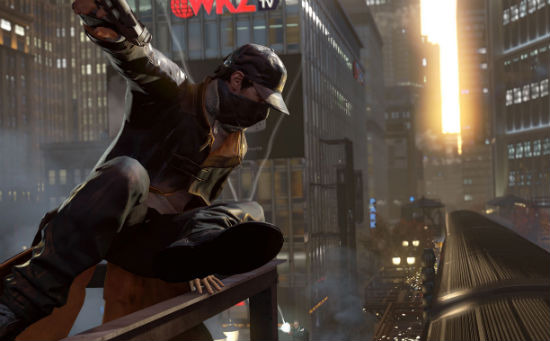 One of the most anticipated games on a next generation console is now a step closer to the big screen. Ubisoft's Watch Dogs, which follows a man around Chicago with the ability to hack into anything, is being developed into a feature film by Sony Pictures and New Regency. The company announced the news at their Tuesday press conference about the November 15 release of the PlayStation 4.
Ubisoft had previously revealed they wanted to turn the property into a film, but Sony and New Regency's involvement vaults the film ahead of other games like Far Cry and Rabbids.
Here's one of the many awesome trailers for Watch Dogs, which'll be available for PC, PS3, PS4. Wii U, XBox 360 and XBox One.
Here's a plot description of the game.
Set in Chicago, where a central network of computers connects everyone and everything, Watch_Dogs explores the impact of technology within our society. Using the city as your weapon, you will embark on a personal mission to inflict your own brand of justice.
Chicago's overarching network is known as the Central Operating System (ctOS), and it controls almost all of the city's technology and information – including key data on all of the city's residents.
You play as Aiden Pearce, a brilliant hacker and former thug, whose criminal past led to a violent family tragedy. While seeking justice for those events, you'll monitor and hack those around you by manipulating the ctOS from the palm of your hand. You'll access omnipresent security cameras, download personal information to locate a target, control traffic lights and public transportation to stop the enemy... and more.
We'll let you know when a screenwriter, director or other people are hired for this project. But after watching the trailer and reading about the game, the cinematic quality is undeniable.
Here's the full press release:
Today at the Sony Computer Entertainment press conference at GamesCom, Ubisoft® announced that its film and television division, Ubisoft Motion Pictures, is collaborating with Sony Pictures Entertainment and New Regency on development of a feature film based on Watch Dogs™, Ubisoft's highly anticipated open world action-adventure video game, available for Sony's PlayStation 4 this holiday."Sony Pictures and New Regency are ideal partners for us," said Jean-Julien Baronnet, chief executive officer, Ubisoft Motion Pictures. "Their deep production expertise and willingness to allow us to maintain a strong creative voice in the film means that we're on track to deliver a movie that can build upon the excitement that Watch Dogs already is generating as a game."Commenting on the announcement, Hannah Minghella, president of Production for Columbia Pictures, said, "The themes and open gameplay of 'Watch Dogs' lends itself perfectly to the big screen. The game has intense action and adventure, but the story focuses on information and the control of information, which we think will lead to an exciting thriller.  It has tremendous potential as a motion picture and we're thrilled to have the opportunity to work closely with Ubisoft's internal creative team on the development of the project."Watch Dogs centers on Aiden Pearce, a brilliant hacker bent on revenge and inflicting his own brand of justice after a violent family tragedy.  Using all of his skills, Pearce hacks into Chicago's Central Operating System (ctOS), which controls the city's infrastructure, including security cameras, traffic lights, and public transportation, as well as databases containing key information on the city's residents.  In the game, Pearce turns the entire city of Chicago into his ultimate weapon. The game received many awards at E3 2012, including Best of Show from Gaming Excellence and three awards (Biggest Surprise, Best New Franchise and Best PC Game) from IGN.  The game also won GameSpot's People's Choice Most Exciting Game of E3 2013. The project will be overseen at Ubisoft by Ubisoft Motion Pictures. At Columbia, Minghella and Sam Dickerman will oversee development while Alexandra Milchan and Andrew Calof will work on the forthcoming film for New Regency.