'Getaway' Trailer #2: Evil Euro Villain Forces Ethan Hawke To Drive Really Fast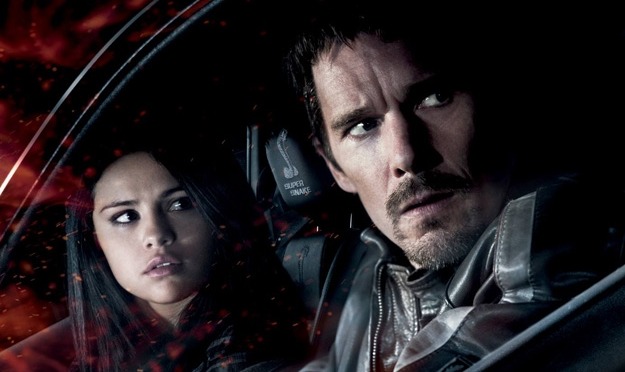 Ethan Hawke has spent much of the past couple of years looking terrified, at least when he's not busy wooing beautiful French women. He's had roles in two Jason Blum-produced horror pics, Sinister and The Purge, and now he's got himself a lead role in the late-summer thriller Getaway.
Directed by Courtney Solomon (An American Haunting, Dungeons & Dragons), the vehicle-centric actioner stars Hawke as a retired race car driver named Brent Magna (yes, really) whose wife has been kidnapped by a mysterious villain. Brent is forced to complete a number of highly illegal errands that involve driving really fast in a stolen sports car, while taking its owner (Selena Gomez) along for the ride.
It's all profoundly silly, right down to the villain's cartoonishly evil European accent, but if you're in the mood for some cinematic junk food it could do the trick. Watch the latest trailer after the jump.
Getaway opens August 30, which tends not to be the most auspicious release date. On the other hand, the only other wide release that day is One Direction: This Is Us. If Brit boy bands aren't your thing, Getaway could be the lesser of two evils.
Getaway is the gritty, heart-pounding action thriller from Warner Bros. Pictures and Dark Castle Entertainment in which former race car driver Brent Magna (Ethan Hawke) is pitted against the clock. Desperately trying to save the life of his kidnapped wife, Brent commandeers a custom Shelby Cobra Mustang, taking it and its unwitting owner (Selena Gomez) on a high-speed race against time, at the command of the mysterious villain holding his wife hostage.
PS: If you're an Arrested Development fan like me, I'm thinking there's a good chance that reading about this entirely unrelated film got the Mark Cherry tune "Getaway" stuck in your head. So here you go: