'The Inevitable Defeat Of Mister And Pete' Trailer: Brooklyn Kids On The Run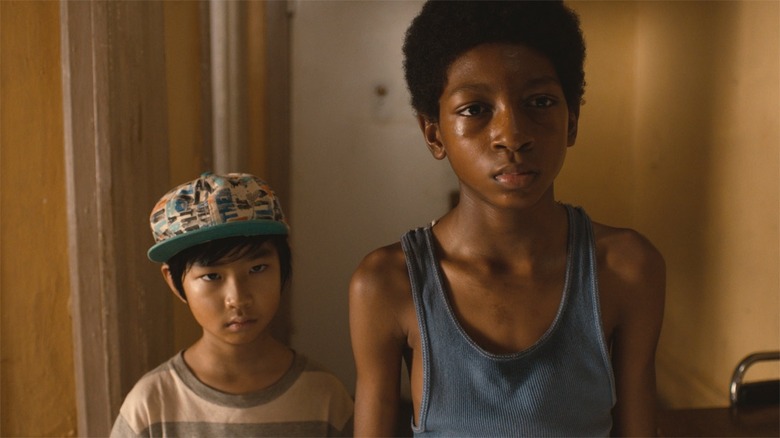 There comes a moment in every person's life when they realize that life just isn't fair, and there's f***-all they can do about it but survive the best they can. Unfortunately, part of that injustice is that some folks are forced to learn that lesson much sooner than others.
Like the title characters of George Tillman Jr.'s The Inevitable Defeat of Mister and Pete. Mister (Skylan Brooks) is a 13-year-old whose recent flunking of the eighth grade is the least of his worries. His mom (Jennifer Hudson) is a drug addict who gets arrested and taken away, and he's left to take care of the 9-year-old Pete (Ethan Dizon), a neighbor kid in a similarly sad situation.
Desperate to avoid being put in foster care by child protective services, Mister and Pete struggle to survive on their own in Brooklyn, while working toward Mister's goal of moving to Beverly Hills to land a TV role. Watch the first trailer after the jump.
The Inevitable Defeat of Mister and Pete got so-so reviews out of Sundance. Our own Germain Lussier found it to be an "emotionally effective" but "slightly underwhelming experience," and most other critics seemed more or less in agreement.Collider felt that it "simply tries too hard, and its emotional manipulation becomes far too obvious," while THR complained that "not much happens in the protracted midsection," leaving the film to "idle for much of its running time." On the plus side, reviewers had nice things to say about the performances, particularly those of the "precociously charming" young leads.
Featuring a notable cast that also includes Adewale Akinnuoye-Agbaje, Anthony Mackie, Jordin Sparks, and Jeffrey Wright, The Inevitable Defeat of Mister and Pete gets a limited release from Lionsgate starting October 11.
During a sweltering summer in New York City, 13-year-old Mister's (Brooks) hard-living mother (Hudson) is apprehended by the police, leaving the boy and nine-year-old Pete (Dizon) alone to forage for food while dodging child protective services and the destructive scenarios of the Brooklyn projects. Faced with more than any child can be expected to bear, the resourceful Mister nevertheless feels he is an unstoppable force against seemingly unmovable obstacles. But what really keeps the pair in the survival game is much more Mister's vulnerability than his larger-than-life attitude.
THE INEVITABLE DEFEAT OF MISTER AND PETE is a beautifully observed and tremendously moving film about salvation through friendship and the way transformation sometimes can happen just by holding on long enough.