Cool Stuff: Firefly: The Board Game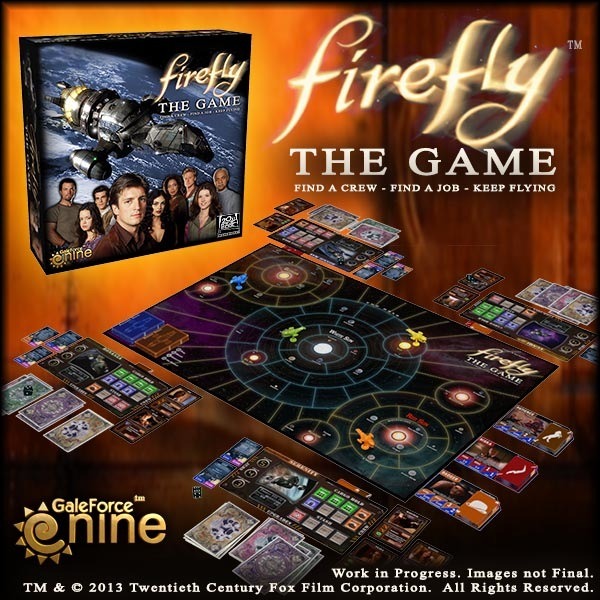 We may receive a commission on purchases made from links.
Board games built around big movie and tv properties aren't usually that good. It seems like most of the time, the money spent on the licenses and image rights allow little left for investment into quality game design. There are a couple select companies that buck that trend, probably most notably Fantasy Flight Games (which has the Star Wars license). Last year a company called Gale Force 9 entered the mix with the release of Spartacus: A Game of Blood and Treachery, based on the Starz television series. The game adaptation shocked the board game community by earning a user rating worthy of the top 250 games on BoardGameGeek.com (basically, the imdb for board games).
This year that same company, Gale Force 9, scored the license for the Joss Whedon television series Firefly and premiered a board game based on the beloved geek series at GenCon. The company had a limited amount of copies of Firefly: The Game on sale at the board game convention, but sold out of their 300 copies in less than 10 minutes on opening day. The game has a $59.99 msrp, but Amazon has it available for pre-order for only $46.00. Act fast as the early GenCon copies of game has been selling on ebay for up to $145.
Interview with GF9 about the game:
Game demo:
Video of the game selling out at GenCon:
Game description from the publisher:
In Firefly: The Game – based on the popular Firefly television series created by Joss Whedon – players captain their own Firefly-class transport ship, traveling the 'Verse with a handpicked crew of fighters, mechanics and other travelers. As a captain desperate for work, players are compelled to take on any job — so long as it pays. Double-dealing employers, heavy-handed Alliance patrols, and marauding Reavers are all in a day's work for a ship's captain at the edge of the 'Verse. Firefly: The Game is a high-end thematic tabletop boardgame from Gale Force Nine (GF9) and the first in a series of tabletop hobby board games and miniatures games from GF9 set in the Firefly Universe.