Star Wars Bits: Conan O'Brien Bribes Harrison Ford, 'Phineas & Ferb' Crossover Details, And More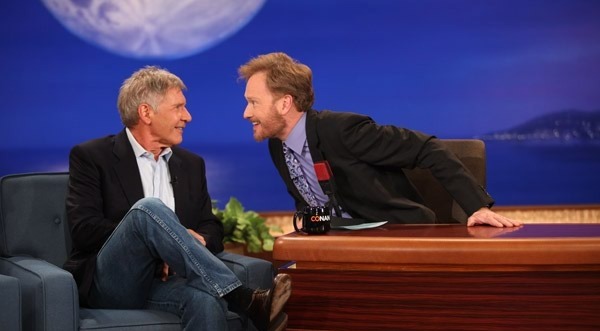 Harrison Ford has been pretty good about keeping his lips sealed with regard to Star Wars Episode VII, but would he break his silence for $1,000? Conan O'Brien finds out. Also after the jump:
Ford thinks modern fandom would've ruined Star Wars
Get details on the Star Wars / Phineas & Ferb crossover
During his current press tour for Paranoia, Ford also offered his thoughts on contemporary fandom — and how he believes it would've ruined A New Hope, had the film come out today:
Everyone would be ahead of it, and everybody would know what it was, and it would be no fun at all. But people still went to movies in those days. People went to movie theaters. It was a community experience, and that was part of the fun. Now people see a movie on their iPad, alone, with interruptions for snacks.
Ford also isn't too keen on events like Comic-Con, not that that should surprise anyone who saw his terrified reaction in Hall H this year:
It's another form of engagement. I think the success of Comic-Con is based on the partnership between the fans and the service providers, the entities — I won't necessarily call them filmmakers — that supply the film product that supports their particular interest, whether it's vampires or science-fiction fantasies or Transformers or whatever is going on.
He's right that moviegoing culture has changed, but whether that's a good thing or a bad thing is for you to debate in the comments. Would A New Hope have been a success if it had opened in 2013, or would it have landed with a thud like Elysium and Pacific Rim did? [NYT]
We'll never actually get an answer to the above question, of course, but there will in fact be a version of A New Hope coming to screens next year. Phineas & Ferb creator Jeff "Swampy" Marsh explained how his Disney Channel show's upcoming Star Wars special will work:
All of [the plot of A New Hope] happens exactly the way it did, but we find out that Phineas and Ferb are Luke's neighbors on Tatooine and become embroiled in the adventure. Our story all takes place as if you had a slightly wider shot, you could see our characters. Or if you just waited around five minutes after this [Star Wars] storyline, our characters would pass through, which was really really fun to do.
Phineas & Ferb also has a Marvel crossover coming out this weekend, as we've previously reported. But don't hold your breath for a Star Wars – Marvel team up. Cort Lane, Marvel TV's VP of development and production, says that "there are no plans right now" for any such project. [EW]