Coming Soon: 'Smile You Son Of A Bitch, An Art Tribute To Jaws'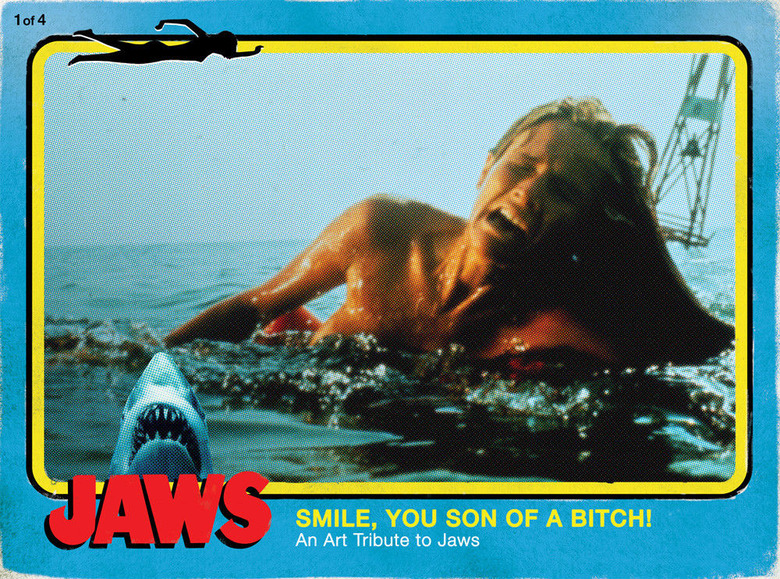 Click on your calendar app and put a note on November 1. That's when the Hero Complex Gallery in Los Angeles will host a special three-day art event called Smile You Son Of A Bitch, An Art Tribute To Jaws. Sixty plus artists will present work based on the classic 1975 Steven Spielberg thriller. Over the course of the exhibit, there will be attendance from stars of the movie, displays of original film memorabilia, discussions with leading shark experts and more. It sounds like a can't-miss event for fans of Jaws.
But November 1 is so far away, how can you get some Jaws art sooner? Leading up to the event, artist Craig Drake will release four limited edition pieces called The Lost Trading Card Set. Each piece looks like an old school Jaws trading card featuring the stars of the film. The first one, which you can see above, goes on sale Friday August 16. Even cooler? A portion of the proceeds go to PangeaSeed, an organization that raises awareness for the preservation and conservation of sharks.
Inside The Rock Poster first posted about the exhibit and trading card prints. You can get the below print at PangeaSeed at noon PST August 16.
It's an 18x24 inch screenprint edition of 75 and costs $50.
Here's a tease of the rest of the posters in the series, which will be released each month. Follow @HeroComplexArt and @PangeaSeed for more information.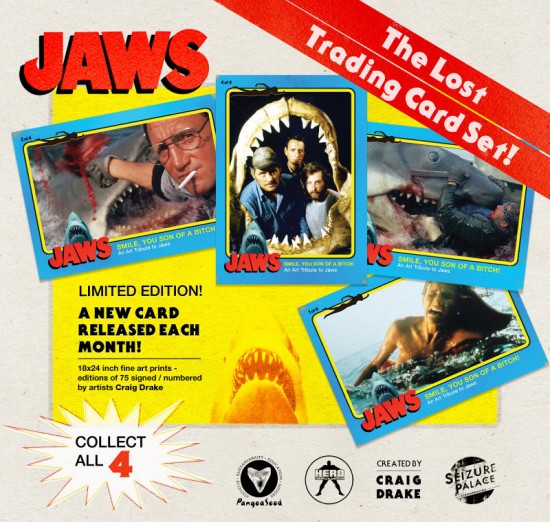 We'll give you more information on the full art exhibit, as well as news on who and what will be there, as we get closer to November 1.