Steven Spielberg Envisions Teaming With Zhang Yimou For China-Set Film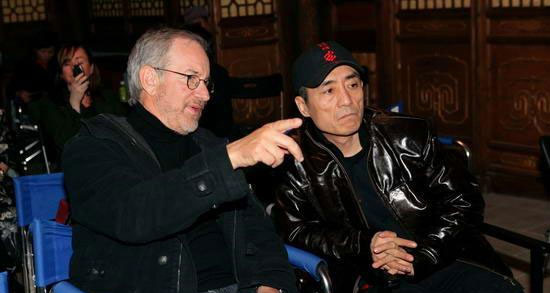 Steven Spielberg and Zhang Yimou almost worked together several years ago, when the two were teamed to create the opening and closing ceremonies for the 2008 Beijing Olymipcs. Spielberg pulled out of that project, but there's a chance the two could still do something together in the future.
While Spielberg is pursuing new projects (having put off Robopocalpypse and abandoned American Sniper), Zhang Yimou is attached to make Quasimodo, and has at least one project prepping in China. But Spielberg still fancies a gig with the director, and recently mentioned the idea of them doing a film together that would be set in China.
While promoting the 3D re-release of Jurassic Park, Spielberg told China Daily,
I would like to make a movie in China with my dear friend [Zhang Yimou]. We would work together on an international film that could take place in China.
We don't have any real context for the possible film other than a slight elaboration from Spielberg:
I just feel China has such a rich history and inspirational culture for filmmakers both in the West and Asia. So many good stories could be told about China, not just stories from a distant past but contemporary stories.
While the notion is interesting, there's no timeline for this possible pairing, and no reason to think it could happen soon. In addition to Quasimodo, Zhang has a Chinese film in the works, Return, about "an intellectual who is forced into marriage, flees to America and on his return to China is sent to a labor camp."
The script by Zou Jingshi, who scripted Zhang's Riding Alone For Thousands of Miles, adapts the novel The Criminal Lu Yanshi by Yan Geling. That's the same author whose work Zhang adapted into the film The Flowers of War a couple years ago. [via Variety]