'Vampire Academy' Trailer: From The Makers Of 'Heathers' And 'Mean Girls'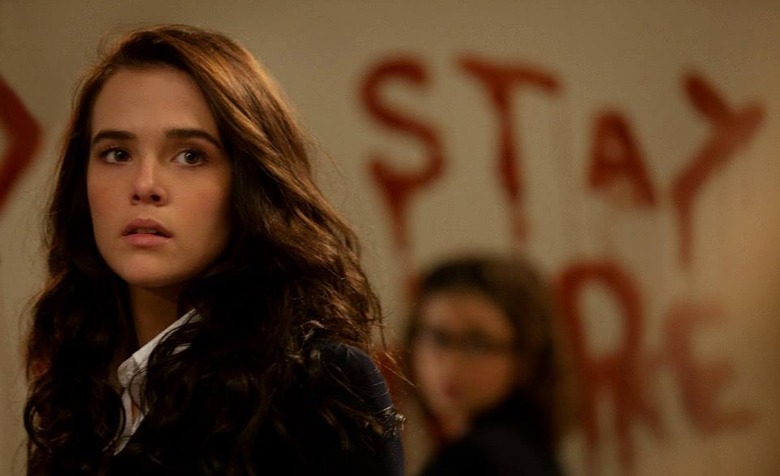 How can a YA adaptation about beautiful vampires set itself apart at a time when YA adaptations and beautiful vampires have become utterly, tiresomely ubiquitous? Well, it can't hurt to have the guys behind two razor-sharp teen classics on board.
Vampire Academy: Blood Sisters comes from Mean Girls helmer Mark Waters and Heathers writer Daniel Waters, who adapted the script from Richelle Mead's wildly popular series of books. The first trailer has just hit the web, and you can check it out after the jump.
Vampire Academy: Blood Sisters tells the story of two girls at a school for vampires. Rose Hathaway (Zoey Deutch) is a half-vamp fighter who's training to serve as a bodyguard for her best friend, full-blooded Lissa (Lucy Fry). Upon returning to the campus they'd recently escaped, Lissa finds herself the target of mysterious, disturbing threats.
While comparisons to Twilight are inevitable, Vampire Academy differs in some pretty significant ways. For one thing, while there is, of course, a handsome brooding love interest (Danila Kozlovsky) for Rose, the central relationship is the one between BFFs Rose and Lissa. For another, the "fun, brassy" Rose is far more like tough, wisecracking Buffy Summers than delicate, passive Bella Swan.
Plus, with the Waters brothers involved, we can hope for some of the biting (pun intended, sorry/not sorry) humor they brought to their previous work. The first trailer admittedly isn't very promising — the world looks generic, and the tone is all over the place — but I'll give it credit for at least trying to have some fun with the genre.
Olga Kurylenko, Joely Richardson, Sarah Hyland, and Gabriel Byrne also star. The Weinstein Co. has Vampire Academy: Blood Sisters scheduled to open February 14, 2014.