Bruce Willis "Bored" Of Action Movies, But Still Does Them For The Money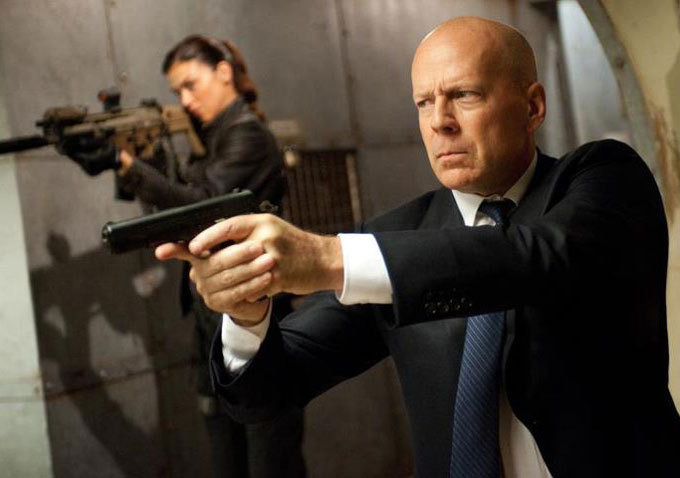 Since making the first Die Hard in the '80s, Bruce Willis has built himself a fine career as an action star. While he occasionally forays into other types of roles from time to time (like in last year's Moonrise Kingdom), there's no question that he's best known for his ass-kicking turns. Heck, this year saw him appearing in three different action sequels — A Good Day to Die Hard, G.I. Joe: Retaliation, and Red 2.
But Willis claims he's now growing weary of the same-old same-old. In a recent interview, he declared that he was "a bit bored" of action movies these days. Though to be clear, he still likes to "earn lots of money from those." Hit the jump to read his comments.
Still, he's willing to keep making them because they pay really, really well. "I am very clear with who I am," he said. "I work in all sorts of films, but the action movies are the ones that generate the most revenue. I like to earn lots of money from those, but I do all types: small productions, mega-projects, medium sized, even science fiction."
Recently, Sylvester Stallone blasted Willis as "greedy and lazy" after the Die Hard actor turned down his $3 million offer for four days of shooting on The Expendables 3. Willis had been pushing for a $4 million paycheck instead. If there was any doubt that Willis was just in it for the money, his comments have cleared that right up.
Willis isn't the only one tired of his action movies. All three of his explosive releases this year were panned by critics, though A Good Day to Die Hard and G.I. Joe: Retaliation managed to make decent money anyway. And yet there's no end in sight for him. The next three projects listed on his IMDb page are all categorized as action: American Assassin, Expiration, and of course, another Die Hard.
Which is too bad, because it'd be interesting to see him really branch out. His appearances in Looper and Moonrise Kingdom were among the most exciting he's done in recent years. Sure, they don't pay as well as big studio tentpoles do, hopefully he's got enough saved up to be able to comfortably go the indie route.