New 'Anchorman 2: The Legend Continues' Photos Are Stylin' And Profilin'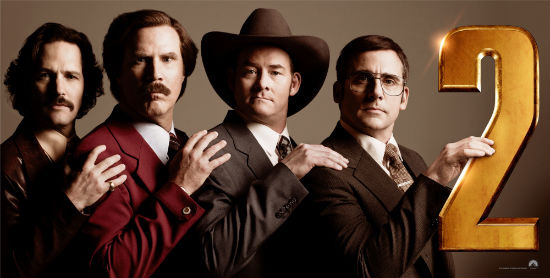 You probably already know this, but Ron Burgundy is kind of a big deal. If he wasn't, would he be able to pull off a long leather overcoat with puffy fur collar?
San Diego's most famous news anchor returns December 20 with Anchorman 2: The Legend Continues. The full cast of the 2004 original are back as Ron (Will Ferrell), Brick (Steve Carell), Champ (David Koechner) and Brian (Paul Rudd) are forced into the world of 24-hour news during the 1980s.
Check out two new photos from the film below.
Thanks to The Playlist for these images.
Two things to notice in these photos. In the first one, Ron and Victoria (Christina Applegate) are living large in New York City, but that doesn't seem like it meshes with what happens in the rest of the movie. The second image looks a bit more in line with the film's narrative, as the News team are in the studio of a brand new news station.
Here's the official plot description of the film.
With the '70s behind him, San Diego's top rated newsman, Ron Burgundy (Will Ferrell), returns to the news desk in "Anchorman 2: The Legend Continues." Also back for more are Ron's co-anchor and wife, Veronica Corningstone (Christina Applegate), weather man Brick Tamland (Steve Carell), man on the street Brian Fantana (Paul Rudd) and sports guy Champ Kind (David Koechner) – All of whom won't make it easy to stay classy...while taking the nation's first 24-hour news channel by storm.