'Mob City' TV Trailer: From Former 'Walking Dead' Showrunner Frank Darabont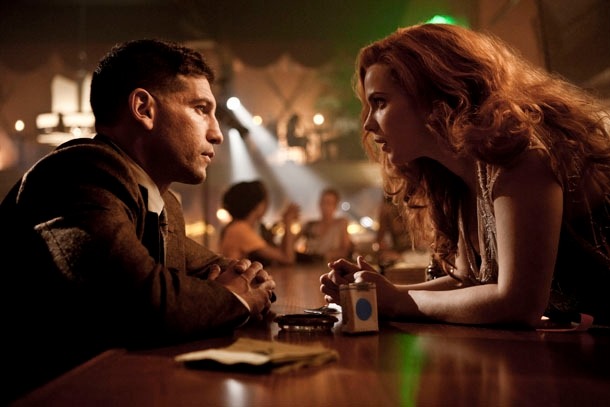 After his unceremonious exit from The Walking Dead, Frank Darabont returns to television this year with a whole new project that has nothing to do with the undead — but plenty, still, to do with monsters.
The six-episode TNT series Mob City (formerly titled L.A. Noir and then Lost Angels) chronicles the war between gangsters and cops in '40s Los Angeles, which gets kicked up to a whole new level once the LAPD forms a specialized mob squad.
Walking Dead alums Jon Bernthal and Jeffrey DeMunn join Darabont on the new project, along with Ed Burns, Neal McDonough, Jeremy Luke, and many more. Watch the first trailer and get more details after the jump.
The first trailer suffers, at least in my estimation, from looking a bit too familiar. Even setting aside the fact that there's significant overlap here with Ruben Fleischer's Gangster Squad, the revelation that this is a world of gray hats might have sounded much more profound in 2003 before the current trend of antihero dramas took off.
Likewise, the classic noir imagery is striking, but doesn't feel particularly fresh, and the jazz-set montage mostly just reminded me of Homeland's opening credits. The only truly surprising thing in the entire video may be who turns out to be behind that voiceover.
But none of this is to say that there isn't room for Mob City to be fantastic. For one thing, Gangster Squad was incredibly boring; I've got my fingers crossed that Darabont will be able to do much more with that fascinating fact-based material. And though I eventually gave up on The Walking Dead, that first episode was as tense and gripping as anything.
TNT has Mob City set to premiere Wednesday, December 4. Here's a more detailed description of the show that was floating around earlier this year.
Lost Angels stars Jon Bernthal as Joe Teague, an ex-Marine now working as an LAPD cop in an era rampant with police corruption. Jeffrey DeMunn plays Detective Hal Morrison, who heads the LAPD's new mob squad, with Jeremy Strong as Detective Mike Hendry, Morrison's second in command. Neal McDonough is Capt. William Parker, Teague's boss who is determined to weed out corruption and bring down Cohen. And Milo Ventimiglia plays Ned Stax, who fought alongside Teague during World War II but who now works as a lawyer with connections to the mob. The project also co-stars Ron Rifkin playing Los Angeles Mayor Fletcher Bowron, who makes it his mission to clean up corruption in city government; Pihla Viitala as Anya, the head bartender at Bunny's on Central Avenue, the West Coast center of the black jazz scene; and Alexa Davalos as Jasmine, a beautiful woman whose past has come back to haunt her.