Sony Picks Up Neill Blomkamp's 'Chappie', More Plot Details Revealed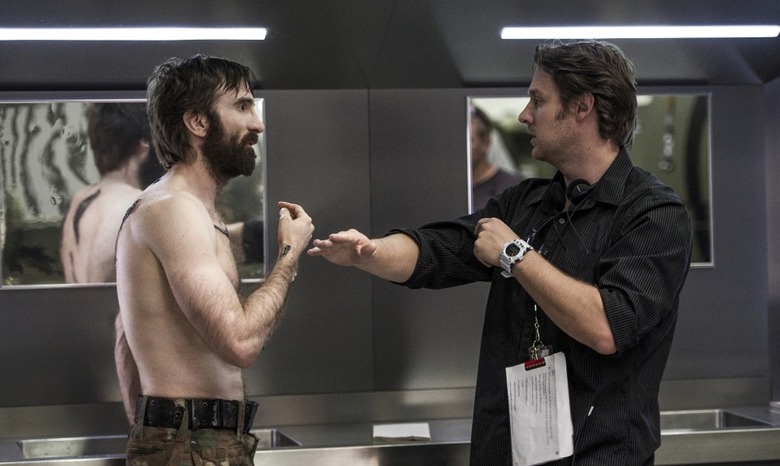 Elysium's box office performance this past weekend was nothing to get excited about, but evidently that hasn't slowed Sony's enthusiasm for director Neill Blomkamp. Sony is once again teaming with Media Rights Capital for Blomkamp's next, the sci-fi comedy Chappie.
And with that announcement come more details about the movie, which had previously been kept under wraps. Sharlto Copley is set to star, as he has in both of Blomkamp's features so far, along with Die Antwoord members Ninja and Yo-Landi Vi$$er. Hit the jump to learn more about the plot.
Chappie tells the story of a robot imbued with artificial intelligence who is stolen by two local gangsters who want to use him for their own nefarious purposes. The film will star Sharlto Copley as the voice of Chappie, with Ninja and Yolandi Visser, voices of the South African Zef counter-culture movement and members of rap-rave duo Die Antwoord, as the two gangsters.
Slumdog Millionaire star Dev Patel entered early talks last month to play a young man from the poor neighborhood that Chappie patrols, but the latest update makes no mention of him. It's not clear if Patel is still circling, or if talks have quietly fizzled.
While Elysium and District 9 were fairly serious in tone, Blomkamp said last year that Chappie would be a more lighthearted kind of sci-fi movie. "It's like a fundamentally more simple story, a comedy, a heartfelt story, in a science fiction setting," he explained. "And it's fucking hilarious, it's a really cool film. I can say that with confidence... It's a smaller film, a more esoteric one."
Chappie starts shooting this fall. No release date has been announced.