Watch Footage From D23 Expo's Journey Into Imagineering Pavilion And Panels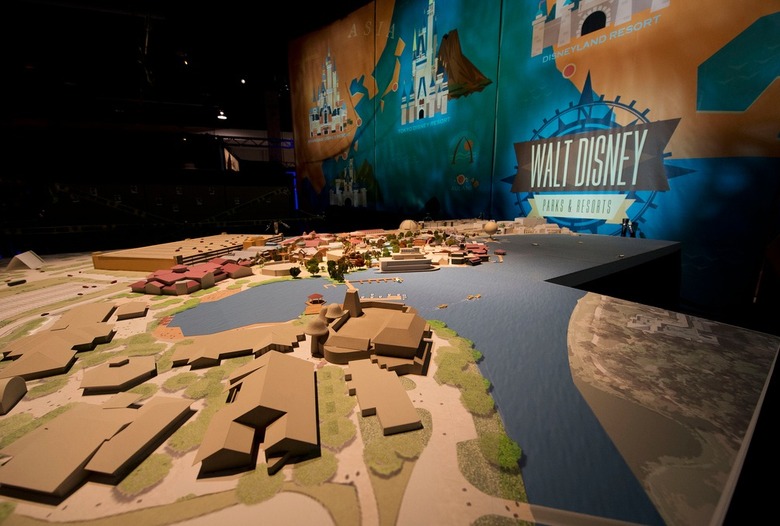 If you didn't get a chance to attend the 2013 D23 Expo in Anaheim then you missed a lot of cool presentations. This is especially true if you're a fan of the Disney theme parks. Thankfully, DisneyandMore, DatelineDisneyland and ThomasTheImagineer were able to capture a lot of the cool stuff on video for you to enjoy at home.
Below are the videos, accompanied by the official D23 Expo descriptions for the events.
Walt Disney Imagineering's Journey Into Imagineering Pavillion on the show floor
In honor of the 60th anniversary of Walt Disney Imagineering and the origins of Disney parks and resorts, Imagineering is hosting an "open house" in Hall C, throwing open the doors of its unique facilities and offering an unprecedented look at its creative processes.
You're invited to enter the Imagineering "dream factory" at "1401 Flower Street" to get a rare opportunity to meet and interact with an eclectic array of Imagineering's creative minds—ride engineers, model builders, pre-visualization artists, architects, special effects designers, inventors, and show animators—and join them as they share their skills and talents. In addition, you'll have the chance to glimpse the "workspaces" of several project teams from around Disney's global portfolio of parks and resorts, perhaps spotting a few clues to coming attractions.
YOUR "JOURNEY INTO IMAGINEERING" WILL ALSO INCLUDE:
• A first look at MyMagic+, a collection of tools debuting soon at Walt Disney World
Resort that will give guests more opportunities to customize and personalize their
entire visit.
• A sneak peek at Disney Springs, a reimagining and reinvention of Downtown
Disney at the Walt Disney World Resort that transform it into a timeless and
vibrant place that celebrates the turn-of-the century lakeside towns that dotted
the Florida landscape.
• The opportunity to meet one of Marvel's Avengers before he sets sail on a new
adventure.
• The chance to experience some recently opened Disney attractions in a unique way.
• A play test of a great new Disney experience in which you can participate and
provide feedback.
• A glimpse into the Walt Disney Imagineering Art Library that will feature
rarely seen models of concepts that were never built, as well as historical and
revered original concept art from the early days of Imagineering, including Herb
Ryman's sketch of Disneyland and Peter Ellenshaw's "surprise" rendering for the
Disneyland television show.
• Mickey's of Glendale, an outlet of Walt Disney Imagineering's employee-only
store, to shop for unique souvenirs and collectibles and Walt Disney Imagineering
merchandise not available anywhere else.
Undiscovered Disneyland
Proving you can absolutely never get too much of a good thing, creative advisor to Walt Disney Imagineering and soon-to-be Disney Legend Tony Baxter returns to the D23 Expo, along with Imagineer Josh Shipley, with still more treasures from hundreds of hours of never-before-seen color footage of Disneyland shot in the 1950s, '60s, and '70s.
The Art and Artistry of Aulani
Walt Disney Imagineers worked hand-in-hand with locals to create Aulani, A Disney Resort & Spa in Ko Olina, Hawai'i, that celebrates Hawaiian culture, history, and traditions and immerses guests in the legends of the islands. Get a behind-the-scenes look at the making of this fabled new Disney resort with Imagineers Joe Rohde and Jeanette Lomboy.
Walt Disney Imagineering's 60th: Leading a Legacy
Think being at the helm of the most creative organization on Earth is the bestjob you could have? You'd be right! Join current Walt Disney Imagineering Chief Creative Executive Bruce Vaughn and Disney Legend and former WaltDisney Imagineering executive Marty Sklar as they share amazing insights and stories of what it's like to herd the ultimate creative cats of Walt DisneyImagineering.