Sequel Bits: 'Nausicaa Of The Valley Of The Wind,' 'The X-Files 3,' 'The Raid 2,' 'Insidious: Chapter 2'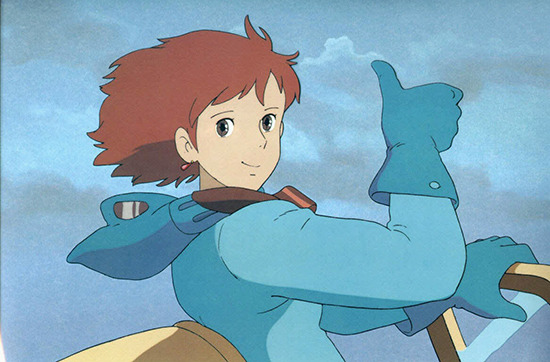 There's a good bit of "maybe, eventually" sequel news today; I'll let readers decide whether the best story is Hayao Miyazaki saying that a Nausicaa sequel directed by Hideaki Anno (Neon Genesis Evangelion) would be OK by him, or whether the top spot goes to Chris Carter saying that he still wants to make a third X-Files film, and that he'd like Simon Pegg to appear in it, too.
In addition to those items, after the break you'll find:
A few details on The Raid 2: Berandal,
Joy Ride 3 gets (an actor who played) Jason Voorhees,
A Haunted House 2 traps Jaime Pressly,
and new Insidious: Chapter 2 images.
We'll start with Nausicaa of the Valley of the Wind. Neon Genesis Evangelion director Hideaki Anno and Hayao Miyazaki have a relationship that goes back to animation of Nausicaa, to which Anno contributed. Anno has lobbied for a Nausicaa sequel for a long time, and Miyazaki recently said, "I have no interest in doing a sequel to Nausicaa, but these days I think if Anno really wants to do it, he should."
That's not to say the film will happen, but it's a damn sight better than the master saying "nope, never, couldn't stomach it." [Rocketnews24]
Speaking to Empire, The X-Files creator Chris Carter said he's still interested in making a third film. He explained,
It's really up to Twentieth Century Fox, whether they have the will to do it. I think all of us are interested in putting the band back together. I have an idea for a third movie in my head. The colonisation date has passed [in the series, the date for the alien invasion was December 22, 2012 - Ed.]  and that is something we wouldn't ignore. For the second movie, we only had the budget for a standalone story, but we want to go back to the mythology.
He also mentioned Simon Pegg working with Gillian Anderson a few years ago, and elaborated "We actually thought about putting him in the second movie, but there was no part for him. I certainly would think about him if we were to go forward in any way."
Twitch reports that Gareth Evans showed up at Frightfest in London with a clip from the in-progress The Raid 2: Berendal. The clip introduced "Hammer Girl," fighting a bunch of suited enemies on a subway car. The report goes on to say:
While The Raid 2 begins two hours after the story of the first film ends, the narrative spans about four years, according to Evans, so is much broader in scope. With that in mind, the clip introduces us to a new character. Her name is Hammer Girl. Evans described her fighting style as 'hari mau'. Apparently it means 'tiger style', and it looks outstanding (It's the same style Iko Uwais uses in Merantau).
If you want more on the film, here's the director talking about it, and also giving some details about his great segment in V/H/S/2, via Reddit.
Five years after the second film and twelve years after the first movie, Joy Ride 3 is about to shoot, with Declan O'Brien (Wrong Turn 4 and 5) writing and directing. But the kicker is that Rusty Nail, the returning character, will be played by Ken Kirzinger, who also once played Jason Voorhees, in Freddy vs. Jason.
STYD has that news, and also this synopsis:
Rusty Nail is back on the road again looking to punish injustice at every turn — and this time it's with a group of hotheaded street racers on their way to the Road Rally 1000. As they drive through a desolate shortcut on the way to the race, an encounter with Rusty turns sour and soon he is tracking, teasing and torturing them until the end of the road. Twentieth Century Fox Home Entertainment will distribute in the Summer 2014 on Blu-ray, DVD, Digital HD and VOD.
While we're talking about casting, let's cast an eye towards the sequel to A Haunted House. What, you didn't think that could happen? Of course it is happening. A press release proudly announces the following:
Joining Wayans in the film are Gabriel Iglesias (Planes, Magic Mike), Jaime Pressly (I Love You Man, Not Another Teen Movie), and Ashley Rickards (Awkward, Gamer), who join returning cast members Essence Atkins (A Haunted House, Are We There Yet?), Affion Crockett (Soul Men, Never Back Down) and Dave Sheridan (Horrible Bosses, Scary Movie). On board as writers and producers are Wayans and Rick Alvarez, with IM Global's Ford on board as an executive producer alongside Brian Kavanaugh-Jones, Steve Squillante and Lisa Blum. Open Road, which scored a hit with A HAUNTED HOUSE, returns as the U.S. distributor with a March 2014 release planned.
Crossing new lines and breaking old barriers, A HAUNTED HOUSE 2 is the sequel to the hilarious box-office hit starring Marlon Wayans as Malcolm who, after exorcising the demons of his ex, is starting fresh with his new girlfriend and her two children. After moving into their dream home, Malcolm is once again plagued by bizarre paranormal events. With spine-tingling tension and hilarious punch-lines A HAUNTED HOUSE 2 is inspired by the latest supernatural horror movie franchises and shows that this time... it's not just the house that's haunted!
Finally, here are some new shots from James Wan's Insidious: Chapter 2, which stars Patrick Wilson, Rose Byrne, Lin Shaye, Ty Simpkins, and Barbara Hershey and opens September 13. Collider has a few more.