Marvel And Disney's 'Big Hero 6' Reveals Character Names And Heartfelt Story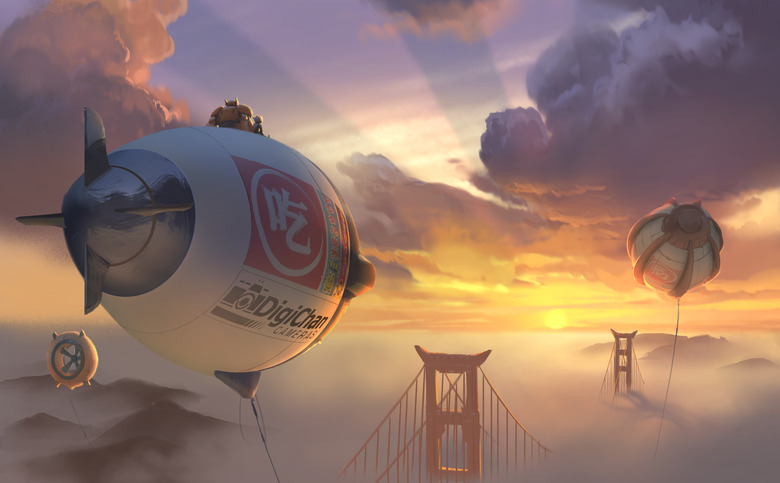 The first Marvel/Disney animated feature film is coming in 2014. It's called Big Hero 6, directed by Don Hall, and tells the story of a 14-year-old genius name Hiro who lives in a city that's blend of San Francisco and Tokyo: San Fransokyo. When one of his new technologies, Microbots, is stolen by a super villain, Hiro decides to build a team of superheroes to stop them. This team, however, will utilize the skills of regular people in his life: his barista, a bike messenger, a sushi chef and a comic book nerd.
Big Hero 6 hits theaters November 7, 2014 but Hall showed up at the D23 Expo 2013 to premiere some new images, footage and more from the first ever Marvel Disney feature collaboration.
Hall took the stage and said, after he directed Winnie the Pooh, he wanted to combine two of his passions: Disney and Comic Books. In researching he came upon Big Hero 6, an obscure Marvel comic that would allow him to tell a superhero origin story, as well as the emotional story of a boy who loses his brother. That's what happens to Hiro, who then meets Baymax: a soft, inflatable looking robot who is usually focused on the health and well being of everyone around. He's the one who heals Hiro, and Hiro returns the favor by turning him into a "meched-out super robot," with red armor, wings and more. All of this was told with a bunch of images that, obviously, had a very Japanimated influence.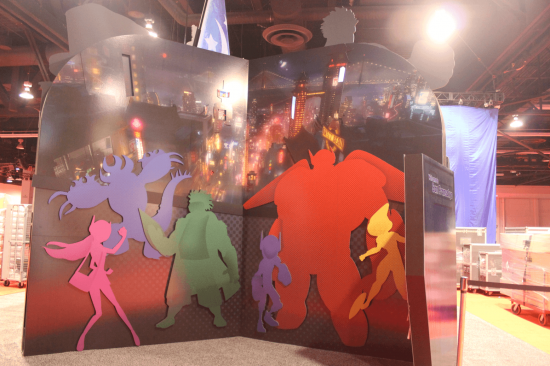 We next goto t see a sizzle reel that introduced us to the other four members of the team, "normal people fitted with mechanical marvels."
Wasabi No Ginger – a sushi chef
Honey Lemon – a chemist and barista
Fred – a comic book fanboy.
Each character uses their abilities – speed, agility, brains, etc. – in conjunction with some kind of armor that Hiro builds for them.
The reel was incredibly exciting and really gave the boyish, dream feeling of constructing your own Avengers or Justice League out of friends. Add that to the emotional story between Hiro and Baymax (who, again, looks like a pillow robot that walks like a baby penguin) and you've got what Disney hopes is the perfect blend of superhero action and classic emotion.
To get a better look at the world, click on the image above – it has Hiro and Baymax sitting on top of a blimp. Previous coverage is here.