'Philomena' Trailer: Dame Judi Dench Searches For Her Lost Son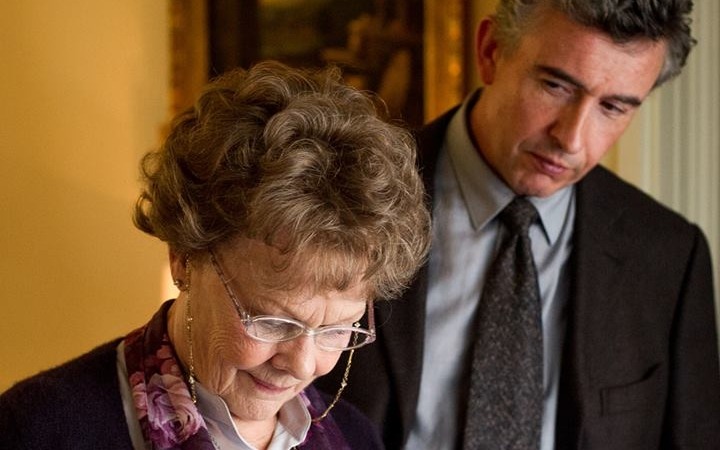 Stephen Frears' last release, the gambling comedy Lay the Favorite, has the unfortunate distinction of being among the worst-reviewed films of his career. His two films before that, Chéri and Tamara Drewe, failed to make much of a mark at all. Fortunately, his next film Philomena looks like it could be a return to form.
Judi Dench stars as the titular character, an Irish woman who was forced to give up her toddler son in the 1950s. She's spent the years since then searching for him in vain, and eventually gets some assistance in her quest from journalist Martin Sixsmith (Steve Coogan).
The moving, fact-based tale seems like perfect prestige pic material, and with Oscar winner Dench and the Oscar-nominated Frears involved, Philomena could potentially make waves this awards season. Watch the new trailer after the jump.
The film obviously has a sense of humor, and is actually described on the Facebook page as a "bittersweet comedy." But it plays more like a heartfelt drama, at least in the trailer. More surprising still, the typically comic Coogan appears to be playing the straight man role here. It appears to suit him just fine, and Dench seems as winning as ever in the funnier lead role.
Philomena opens November 1 in the U.K. U.S. distributor The Weinstein Co. has yet to announce a Stateside release date.
Philomena is the true story of one mother's search for her lost son.
Falling pregnant as a teenager in Ireland in 1952, Philomena was sent to the convent of Roscrea to be looked after as a "fallen woman". When her baby was only a toddler, he was taken away by the nuns for adoption in America. Philomena spent the next fifty years searching for him in vain.
Then she met Martin Sixsmith, a world-weary political journalist who happened to be intrigued by her story. Together they set off for America on a journey that would not only reveal the extraordinary story of Philomena's son, but also create an unexpectedly close bond between them.
The film is a compelling narrative of human love and loss and ultimately celebrates life. It is both funny and sad and concerns two very different people, at different stages of their lives, who help each other and show that there is laughter even in the darkest places.
The book "The Lost Child Of Philomena Lee" was published in 2009. It acted as a catalyst for thousands of adopted Irish children and their 'shamed' mothers to come forward to tell their stories. Many are still searching for their lost families.