First Look At The Marvel Superheroes In Disney Animation's 'Big Hero 6'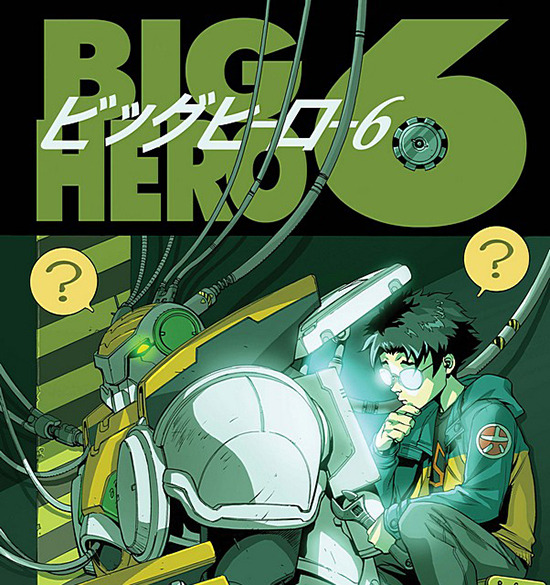 While walking to the D23 Expo Imagineering pavilion for the Thursday night press preview, I came across a small booth advertising Disney Animation's big screen adaptation of Marvel Comic's Big Hero 6. We haven't seen much from the Don Hall-directed November 2014 release, but we're expected to see some footage at Disney's Animation panel on Friday morning (check back for a reaction later in the day). In May we were given a sneak peek into the world of the movie with a piece of concept art and mood video revealing the film's location San Fransokyo. The booth on the D23 show floor doesn't show us much more, but does give us a look at the silhouettes of the film's Big Hero 6 superhero team. Check out photos of that art, after the jump.
Previously:
Steven T. Seagle and Big Hero 6, a Tokyo-set story about government-sanctioned heroes, specifically "a robotics prodigy named Hiro Hamada and his robot companion BayMax, who join a team of superheroes in a high-tech city called San Fransokyo."  Director Don Hall (Winnie the Pooh) found the series and pitched it to John Lasseter, and he's been directing a CG-animated film at Walt Disney Animation Studios, which will be released on November 7 2014.
Unlike the comic, the film is set it in a fictional city that is a hybrid of Tokyo and San Francisco. Check out the video below to see what that looks like:
Hall told the LAT that he liked the freedom that comes from working with a comic that doesn't have a massive fan base:
I was looking for something on the obscure side, something that would mesh well with what we do. The idea of a kid and a robot story with a strong brother element, it's very Disney... Marvel properties take place in the real world. We were looking for something to do where we could make our own world — bring in the Japanese influences,  have recognizable landmarks mashed up with a Japanese aesthetic.
Marvel Comics chief Joe Quesada explains the original comic:
The storytelling aspects are very frenetic, very visceral. It takes tropes of Japanese culture, manga, anime. There are giant dinosaurs that invade a city, big robots, youth fashion, cutesy stuff in the vein of Hello Kitty.
Here's one more example of the city, shown in concept art: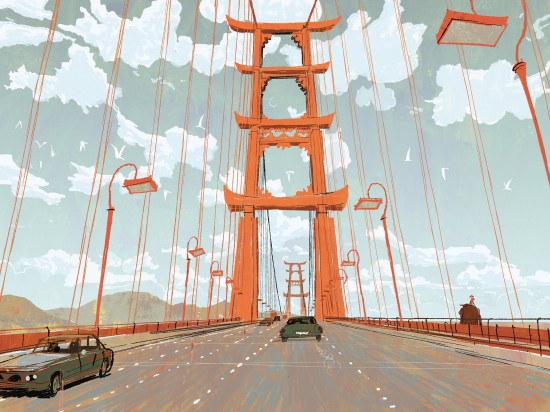 Here's a description of the comic:
When the Japanese government wanted a team of state-sanctioned super-heroes at their disposal, a top-secret consortium of politicians and business entities known as the Giri was formed to recruit and train potential superhuman operatives for "Big Hero 6." Despite reservations by some members of the Giri, Silver Samurai, a freelance ronin and former bodyguard of the terrorist Viper, was appointed as field commander. Secret agent Honey Lemon, inventor of the nanotechnology-based Power Purse from which she could access any object, also agreed to join the team. The tough-talking GoGo Tomago, able to transubstantiate her body into a fiery force blast by uttering her code-name, was released from prison on the condition that she serve on the team. The Machiavellian bureaucrat known only as Mr. Oshima was appointed as the Giri's spokesperson and coordinated Big Hero 6's activities.
Silver Samurai and Viper won't feature in the film as the screen rights are actually owned by Fox. (Both appear in this summer's release The Wolverine.) It seems like the basic concept is all that will make it into Disney's film. Here's the official Disney description:
From Walt Disney Animation Studios comes "Big Hero 6," an action comedy adventure about brilliant robotics prodigy Hiro Hamada, who finds himself in the grips of a criminal plot that threatens to destroy the fast-paced, high-tech city of San Fransokyo. With the help of his closest companion—a robot named Baymax—Hiro joins forces with a reluctant team of first-time crime fighters on a mission to save their city. Inspired by the Marvel comics of the same name, and featuring comic-book style action and all the heart and humor audiences expect from Walt Disney Animation Studios, the CG-animated "Big Hero 6" hits theaters in 3D on November 7, 2014.
Photos by Alyssa Saucedo