John Lasseter Says No 'Star Wars' Animation From Disney, Offers New 'The Good Dinosaur' Art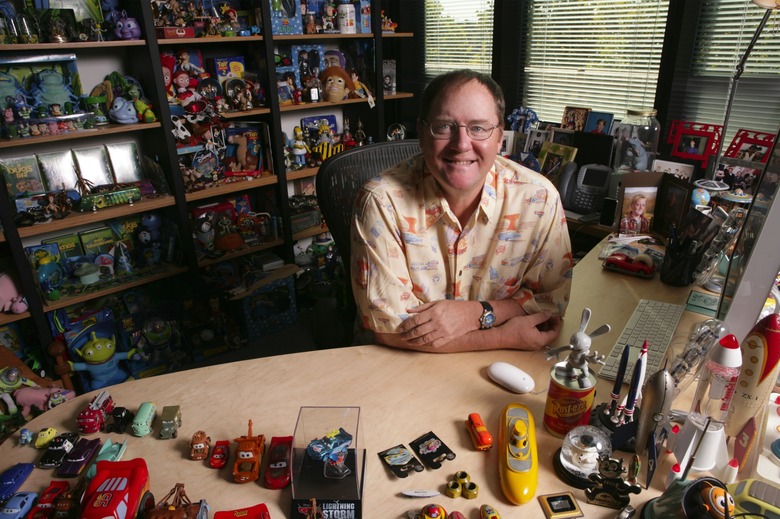 Tomorrow Disney kicks off its own private fan/press event, D23, which takes place every two years. There will be many new materials revealed from a variety of Disney projects, from Frozen and Big Hero 6 to the Pixar films The Good Dinosaur, Inside/Out from Up director Pete Docter, and Finding Dory from Andrew Stanton. The new Mickey Mouse short Get a Horse will be shown off, and then on Saturday there'll probably be something from that little Star Wars project.
John Lasseter is talking about the animated side of Disney today in advance of the presentations tomorrow, and you can get some of his big statements below.
Lasseter says the Big Hero 6 film, which jumps off from a Marvel comic series, is "a loose adaptation — like all adaptations are. They almost have to be" and that Gary Rydstrom's animated film will remain housed at LucasFilm rather than becoming a Disney project. Along with the EW conversation there's this concept image from The Good Dinosaur:

Here are a couple other big points from the interview.
Will there be animated Star Wars projects from Disney?
Not really, other than Pixar has always used Skywalker Sound for all of our productions. They're the best so we'll always continue using them and we're very good friends. And we always have been with [special effects house Industrial Light and Magic] as well. But other than being friends we have never needed to do anything with them.
Will Disney do hand-drawn features?
We're still doing a lot of short films. There are no features on the docket for hand-drawn, but we're definitely keeping hand drawn alive at the studio. Hand-drawn is finding it's way in a very interesting way into the technology. There's a lot of hand-drawing that goes into the computer animated movies at Walt Disney Animation Studios. There's a different style to the animation from that studio, too.  Even though it's computer animation in the end the way they do it, and the feeling it has, is more the feeling of hand-drawn animation.
Will DisneyToon Studios (the studio behind Planes) continue to target the direct-to-disc market?
Disneytoon Studios was started a number of years ago to feed into the direct-to-video market, but as the home video sales have continued to decrease rapidly we are looking at the evolution of the studio going more theatrical. With Disneytoon Studios we start from the beginning by thinking of it as a series in a world — it's a continuation: the Tinkerbell films, and now with Planes, inspired from the world of Cars, but with airplane characters ... You really have to spend time upfront to make sure the world is robust enough and interesting enough to be able to hold many different stories... It's like when you think of these great series on HBO where there are these incredible characters that you love and you just want to see more and more stories of them.
There's a lot more at EW, and we'll have plenty of reports from D23 tomorrow and Saturday.