Sequel Bits: 'Bill & Ted 3', 'Blade Runner 2', 'Fast & Furious 7', 'The Expendables 3'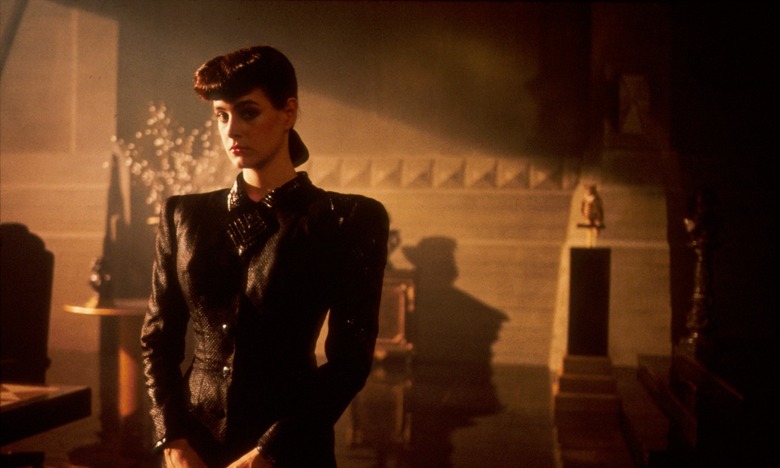 If the idea of a Taxi Driver 2 sounds stupid to you, know that Paul Schrader agrees. As a matter of fact, he thinks the concept pitched to him by Robert De Niro in the '90s was "the dumbest idea that I've ever heard." Also after the jump:
Keanu Reeves offers a small Bill & Ted 3 update
Sean Young calls for a Blade Runner 2 boycott
James Cameron is finalizing multiple Avatar scripts
Bravo kills development on their Heathers TV show
Bruce Willis was too expensive for Expendables 3
300: Rise of an Empire gets rated R by the MPAA
See an early version of the Fast & Furious 7 poster
No one would argue that Sean Young wasn't an important part of Blade Runner, but does she really need to be part of the sequel? Not surprisingly, Sean Young thinks so. To the point that she's asking people to boycott the follow-up if she doesn't appear in it.
Alcon – they're the ones that own it and apparently they have Ridley to direct it — and when I met with them they didn't make any offer-plans to include me. And when I called Ridley Scott's office, he doesn't call me back. So I guess they're going to go, like, prequel or...I don't know what they're going to do. But my official opinion is that, if they don't include me in it, everybody should boycott it. Because it's stupid not to have me in it. It's really stupid. That's my opinion! I mean, you try to tell people something sensible in Hollywood and sometimes they just don't listen, you know. And they usually pay the price too, because everybody's an expert.
I'd like to point out to Young that impotently threatening a boycott may not be the best way to get the part. But in the spirit of not knocking things until I've tried them, I must concede that I've never personally tried that approach to job-searching. [EW]
In other outspoken celebrity news, Paul Schrader had some not-so-kind words for Robert De Niro's movie ideas. Asked in a Reddit AMA session whether he had ever been approached about a sequel to Taxi Driver, Schrader responded:
DeNiro suggested that to Marty and I about 15 years ago and I told him it was the dumbbest idea that I've ever heard. I told him that character had died not more than 6 months after that movie was over. He was on a death trip and was gonna succeed the next time.
Not just a dumb idea, the "dumbbest." Unless that typo was intentional, and what he really meant was "dumb/best." You know, like the way some people feel about Sharknado. [via The Playlist]
Six years after Avatar hit theaters, there's still no Avatar 2. But we can hope 3 and 4 won't take as long, since James Cameron is apparently working on them simultaneously.
"Of course, Jim Cameron is finalizing the scripts– yes, that was plural– for the continuation of the saga that began with the highest grossing film in history– Avatar," Fox Filmed Entertainment chief Jim Gianopulos told analysts. Avatars 2, 3, and 4 are due out in 2016, 2017, and 2018, provided Cameron doesn't do what he always does and completely blow past the deadlines. [Deadline]
Bravo's planned Heathers sequel TV series is almost as dead as one of Veronica and J.D.'s victims. The network has decided not to give a pilot order to the show, which was first announced as being in development last fall. The plot would've seen Veronica (Winona Ryder's character in the original film) moving back to Sherwood with a teenage daughter and dealing with the Ashleys — the daughters of the Heathers from the first movie.
But there's slim hope yet. According to an executive producer of the series, it's "being shopped elsewhere." Added the producer, "I do think it will ultimately find a home!" [Buzzfeed]
Sylvester Stallone threw some shade Bruce Willis' way earlier this week, calling him "greedy and lazy" while announcing that Willis would not be part of The Expendables 3. Harsh words, but it sounds like he has some justification for that first part.
Willis was reportedly offered $3 million to shoot in Bulgaria for four consecutive days. However, Willis demanded $4 million — that's right, $1 million per day — and threatened to drop out if he didn't get it. Stallone and the producers refused, and Willis made good on his word by exiting. Stallone quickly made some calls, and that's how we got "Willis out... Harrison Ford in!!!!" for the sequel. The Expendables 3 hits August 15, 2014. [THR]
Rest assured that 300: Rise of an Empire will be every bit as sexy and graphically violent as its predecessor, at least by MPAA standards. The board has stamped the Noam Murro-directed sequel with an R rating, for "strong sustained sequences of stylized bloody violence throughout, a sex scene, nudity, and some language." 300: Rise of an Empire opens, in all its bloody, sexy glory, on March 7, 2014. [MTV]
There are certain expectations that come with each Fast & Furious movie, and one of them is that it'll involve fast, presumably furious cars. That won't change in Fast & Furious 7, based on an early version of the poster revealed today. Director James Wan Instagrammed a photo of himself and star Tyrese Gibson "peace-ing out at the production office," with a poster clearly visible in the background.
Fast & Furious 7 lands July 11, 2014.