'The Monuments Men' Trailer: What If Oceans Eleven Met In World War II?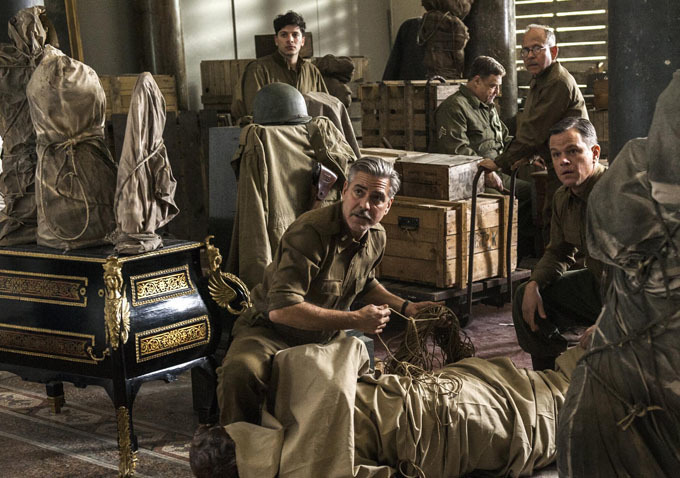 Here's the first trailer from The Monuments Men, the new film from director George Clooney. It's based on a true story, and features Clooney and Matt Damon as two members of a team that ran through the battlefields of World War II trying to save art from destruction by various war machines. As Clooney's character says in the trailer, "if you destroy an entire generation of people's culture, it's as if they never existed."
It's a noble purpose, and since these guys weren't soldiers — they were museum directors, curators, and art historians — there's some opportunity for comedy, too. That's why the rest of the cast includes actors like John Goodman, Bob Balaban, Bill Murray, Cate Blanchett, Jean Dujardin, and Hugh Bonneville.
Check out the footage below.
DC Comics once had an offshoot imprint called Elseworlds, which allowed the company to publish stories featuring Batman in Victorian England, and so on. This feels like the Elseworlds story where Oceanls Eleven came together in WWII. And that would be great, if this trailer suggested the movie had the zing of Steven Soderbergh's Oceans movies.
Clooney told USA Today that he and Grant Heslov "were looking to do a film that was less cynical than a lot of the films we do," which helps explain a lot here. I just hope the movie comes together a bit better than this trailer did. What we see above isn't bad by any stretch, but it feels like it's missing that one bit of magic that makes everything click.
The Monuments Men: opens on December 18. Apple has the trailer.
Based on the true story of the greatest treasure hunt in history, The Monuments Men is an action-thriller focusing on an unlikely World War II platoon, tasked by FDR with going into Germany to rescue artistic masterpieces from Nazi thieves and returning them to their rightful owners.  It would be an impossible mission: with the art trapped behind enemy lines, and with the German army under orders to destroy everything as the Reich fell, how could these guys – seven museum directors, curators, and art historians, all more familiar with Michelangelo than the M-1 – possibly hope to succeed?  But as the Monuments Men, as they were called, found themselves in a race against time to avoid the destruction of 1000 years of culture, they would risk their lives to protect and defend mankind's greatest achievements.