'CBGB' Trailer: Punk Rock History Scrubbed Clean Of Grime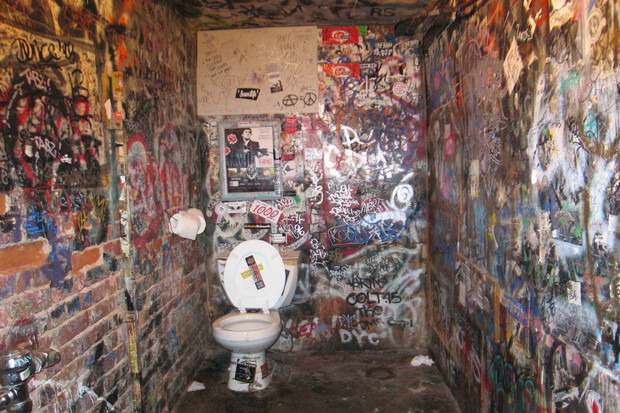 This trailer for CBGB, which dramatizes the history of the NYC club that was the birthplace of new wave and punk in America, makes a lot of noise about the fact that the club's bathroom (above) was famously gross. In fact, after the club closed, parts of that bathroom and other elements of the joint were actually disassembled and worked into the sets used for the movie.
And yet the footage itself looks like a squeaky clean recreation of the house where bands like Blondie, the Talking Heads and the Ramones built their careers.
Kids deserve to know about the roots of punk rock in the US, and there's nothing really wrong with a bunch of people playing dress-up as the biggest figures of the NYC new wave and punk scene. But it's pretty funny. Watch the footage below and you'll see Alan Rickman as Hilly Kristal, who opened the iconic club in '73, Donal Logue as his compatriot, and Malin Akerman, Rupert Grint, Ashley Greene, Johnny Galecki, Ryan Hurst, Justin Bartha and Bradley Whitford as members of Talking Heads, Blondie, The Ramones, Dead Boys, The Police, Iggy Pop and Patti Smith Group.
The film will see release on October 11.
Here's some great actual footage from CBGB.
[THR]