'99% - The Occupy Wall Street Collaborative Film' Trailer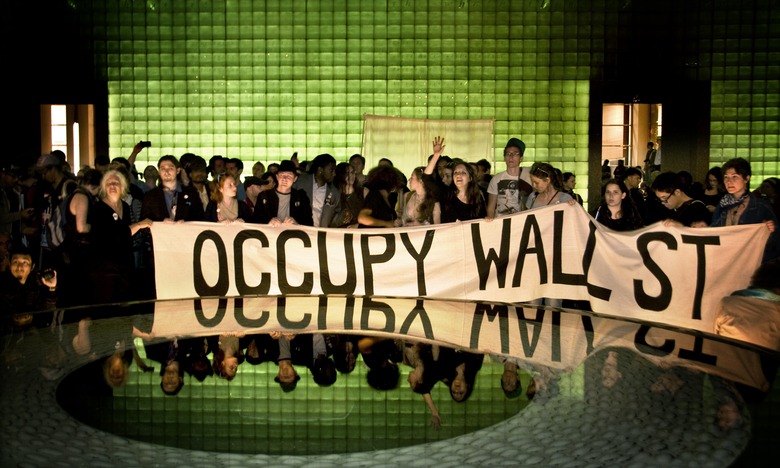 It's been less than two years since protesters first set down in New York City's Zuccotti Park to rally against social and economic injustice, so it's a little weird that Occupy Wall Street already feels like a distant memory. (Or is that just me?) But a new documentary could help bring us back to those heady times.
After a Sundance premiere earlier this year, 99% – The Occupy Wall Street Collaborative Film is now preparing to march into theaters next month, and as such has a new trailer out. Though the promo names Aaron Aites and Audrey Ewell (of the black metal doc Until the Light Takes Us) as the directors, the project was, as the clunky title suggests, a collaborative effort involving over 100 filmmakers. Watch the video after the jump.
As Aites and Ewell explained in a conversation with Rolling Stone, their original plan was to take a decentralize the movie-making process. But they adopted a more structured approach when they found themselves frustrated with the movie's lack of progress.
"It just didn't work. We couldn't get anything done," Ewell explained. "At least with the Occupiers, [they] were in one physical space together. We didn't even have that; we had an email list with hundreds of emails."
Reviews from Sundance indicate that the final product still wasn't terribly streamlined. Variety calls it "as messy as the movement it tries to portray," and THR complained that the film's images were "devoid of depth." But others found it effective all the same. Hollywood.com found it "a rousing call-to-arms," while Pop Matters praised it as "sprawling yet masterful." We don't know if the film has been recut at all since Sundance.
99% – The Occupy Wall Street Collaborative Film opens September 6.
In September 2011, The Occupy Wall Street movement propelled issues of economic inequality into the spotlight. 99% – The Occupy Wall Street Collaborative Film goes behind the scenes of the movement, definitively revealing what happened, and why. Personal stories imbue analysis of big picture issues with the real-world struggles of those compelled to take action, speak up, march, and risk arrest. Supporters, participants, experts and critics shed light on why and how this movement took off with such explosive force, and ask what the next phase might encompass.
The film situates Occupy within the recent emergence of decentralized resistance movements that are challenging the top-down structures of corporate and governmental hierarchy. From the formation of new communities, to protestors and police battling in what many describe as the criminalization of protest, the film reveals a web of power and privilege that consolidates political power and wealth in the hands of a few elite players, while shining a light on the unrest this has caused amongst a diverse cross-section of people who call themselves the 99%.
Made in a unique and unprecedented collaboration of almost 100 filmmakers across the country, the production process of this feature film offers a uniquely diverse way of bringing context to the movement that has swept up America, and much of the world, with its story.