Superhero Bits: Guardians Of The Galaxy, The Wolverine, Agents Of S.H.I.E.L.D., Kick-Ass 2, Batman Vs. Superman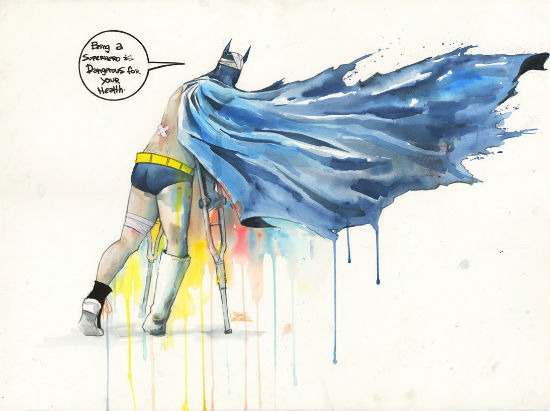 We may receive a commission on purchases made from links.
What did Darren Aronofsky, who almost directed The Wolverine, think of James Mangold's The Wolverine? Will Spider-Man have an ally in The Amazing Spider-Man 2? What image has leaked from the set of Guardians of the Galaxy? How is Jeff Wadlow teasing X-Force? Which frame rate is Bryan Singer using to shoot Quicksilver in X-Men: Days of Future Past? Is Scarlet Witch in the film? When can you see the Agents of S.H.I.E.L.D. pilot this weekend? Who is the latest actor rumored for Batman vs. Superman and what are the names of the tracks on the Kick-Ass 2 score? Read about all this and more in today's Superhero Bits.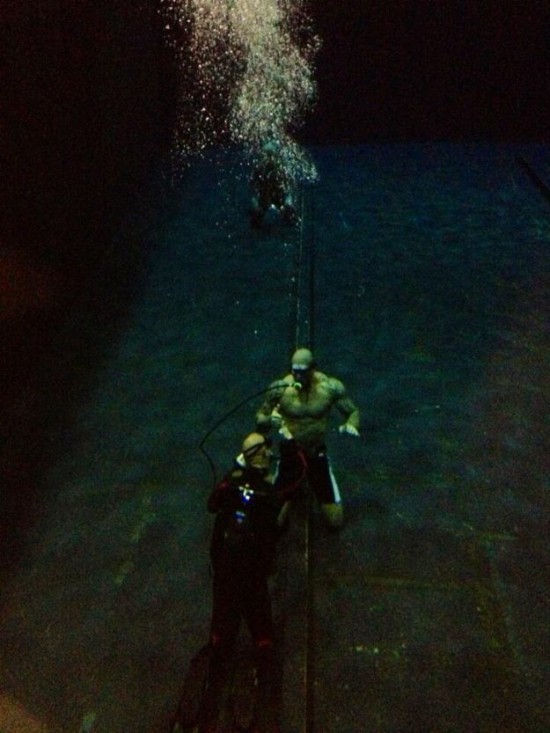 I'm a little late on this one, but Dave Bautista tweeted this image from shooting Guardians of the Galaxy.
Speaking to Den of Geek, the Amazing Spider-Man 2 producers hinted (again) there may be another hero in the film besides the one in the title.
It's Geek Week over on YouTube with tons of new superhero content. One example is this video featuring Simon Pegg and Nick Frost.
Kick-Ass 2 director Jeff Wadlow told Bleeding Cool the following in regards to X-Force:
 I think it will be a little edgier, I think you'll see some characters with different takes on what it means to be a mutant. There will be some grey areas that the movies haven't yet been explored. It won't be as "overt." This movie is more about the grey areas in between. I'm going to take some big ideas from the X-universe and flip them, I think in an interesting way.
Apparently, Bryan Singer is shooting at 3600 frames per second to capture Quicksilver in X-Men: Days of Future Past....
...Singer also dropped a bunch of new details on the film at the Fantasia Film Festival (via JoBlo). There's no Scarlett Witch, he hints at Xavier's return and more.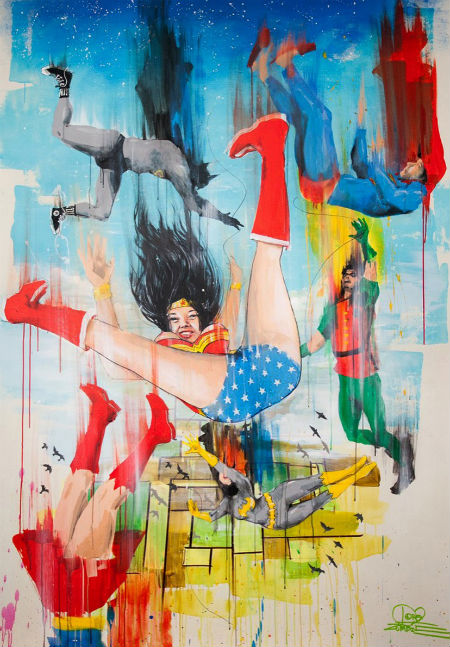 The Phone Booth Gallery in Long Beach, CA has a great exhibit going up this weekend called Pow Pow. It features superhero art by Lora Zombie and Sandra Chevrier. That's just one example above.
Digital Spy spoke to the cast and crew of Kick-Ass 2 about Jim Carrey's decision not to promote the film. They feel he did the film a favor.
Due to the amount of graphics and images included in Superhero Bits, we have to split this post over TWO pages. Click the link above to continue to the second page of Superhero Bits.
Here's a new promo for Marvel's Agents of S.H.I.E.L.D....
...the pilot of which will screen at the D23 Expo on Sunday, August 11 at 3:00 p.m..
Rising Sun Pictures (via Comic Book Movie) posted some behind the scenes VFX videos, such as this one from Batman Begins.
Think McFly Think (via CBM) has heard a rumor that Watchmen's Jeffery Dean Morgan could be Batman in Batman vs Superman.
Mother Russia and the Mother F***er have joined the Kick-Ass 2 viral, urging you to the dark side.
Speaking of Kick-Ass 2, Amazon.com has the track list for the score by Matthew Margeson and Henry Jackman.
Just saw #TheWolverine–blown away by @RealHughJackman-Mangold's work. Masterful storytelling-complete emotional commitment. Bravo, arigato!

— darren aronofsky (@DarrenAronofsky) August 7, 2013


Darren Aronofsky, who was once going to direct The Wolverine, reviews The Wolverine.
The creators of Guardians of the Galaxy visited the UK set, according to Twitter and MTV.