Kevin Feige Says Marvel Has Movies Planned Through 2021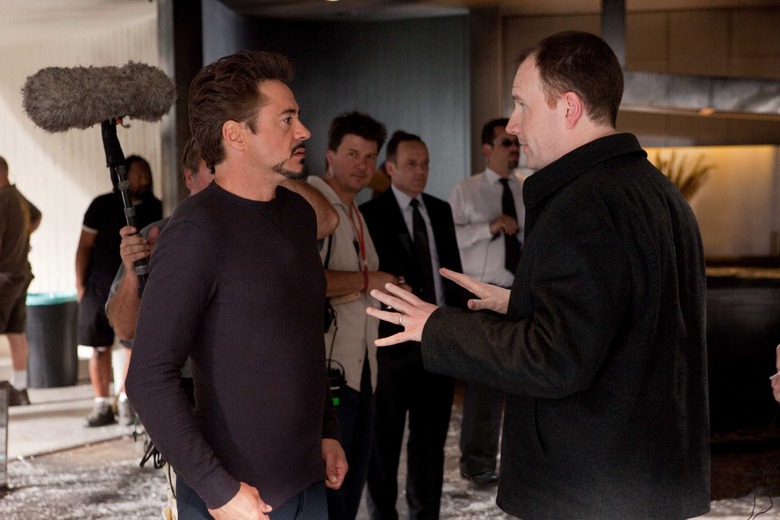 Ask Marvel President Kevin Feige why his Cinematic Universe has worked so well and he'll say "planning." It was planning that put Nick Fury at the end of Iron Man, had S.H.I.E.L.D. become a big part of Iron Man 2 and put an Avengers trailer at the end of Captain America: The First Avenger. It's planning that has Phase 2 of the Universe all but set. Iron Man 3 is out and Thor: The Dark World is next, to be followed by next year's Captain America: The Winter Soldier and Guardians of the Galaxy. The current phase culminates in May 2015 with Avengers: Age of Ultron, which will be followed by Ant-Man. That's a lot of planning.
But, according to Feige, those three years are literally not the half of it. In a revealing new piece in Wired Magazine, the man with the plan says Marvel has movies laid out through about 2021.
Here's Feige's quote from the recommended Wired article (he also said the same thing to USA Today):
I could arguably say what we're planning for the year 2021. Will that happen? I don't know. But what we planned for 2015 in 2006 is happening.
Later in the article, Feige admits this "plan" is pretty fluid. He says the plan holds firm about 75% of the time with the other 25% being kind of loose. It also says, right now, he's "coordinating at least a half-dozen films in various stages of production, making sure their individual arcs serve the overall direction." They've only officially announced five movies, though release dates have been set for May 6, 2016 and May 5, 2017. That, most likely, constitutes the "at least a half-dozen."
So the question becomes, what is this plan six years beyond Avengers: Age of Ultron in 2015? We know Robert Downey Jr. has signed on for The Avengers 3 and that Thanos has to come back at some point. There's also the ever present rumor of a Doctor Strange movie, which is mentioned in the Wired piece. But do those three things, and probable sequels to Guardians of the Galaxy, Thor and Captain America, reach all the way to 2021? That seems unlikely.
Kevin Feige and Marvel Studios surely have plenty more tricks up their sleeves.