Cool Stuff: Cuyler Smith's 'Cut Short' Art Show At Bottleneck In Brooklyn, NY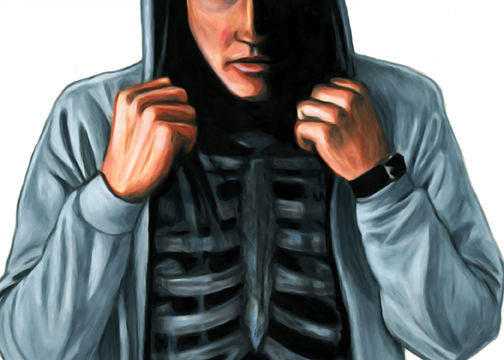 Sometimes an artist comes up with an idea and rides it to greatness. Think Scott Campbell and his Great Showdowns (Link here for context). It's a simple, clean idea that can be adapted to almost any movie. Mike Mitchell does something similar with his Super and Just Like Us series' too. Same for Olly Moss' Paper Cuts. These are all incredibly talented artists with distinct styles who develop a special way of immortalizing pop culture and choose to do it again and again.
Artist Cuyler Smith has found his own niche. A few months back, the Northern California based artist began doing pieces of famous pop culture figures in a unique, medium shot. It was unique because it goes from the upper thigh or waist to the middle of the face. No eyes or hair. These paintings quickly sold out at Gallery 1988's Judd Apatow and Bad Robot shows and now, Smith has taken the idea and developed it as a full gallery show.
The show is called Cut Short and it opens Friday August 9 at the Bottleneck Gallery in Brooklyn NY. Well over 100 different characters from the world of TV and movies have been "cut short" and, after the jump, you can see just a small sampling of the affordable, original art.
Cut Short opens at 7 p.m. August 9 and will remain open through August 24 at the Bottleneck Gallery. It's located at 60 Broadway, Brooklyn. Find more information at www.bottleneckgallery.com, which is also where the show will go on sale online at noon EST on August 10. (They'll do a small online preview on August 8, too. Follow @bottlenecknyc for info on that.)
Each original piece, is hand painted, 5 x 7 inches framed and costs $150. Some pieces are only sold as sets and are more expensive. Select pieces will also be available as $20 prints.
Here's a small selection of individual pieces, and sets, that'll be on display at the show. Can you figure them out?
For more on Smith, visit his Tumblr page.