Leonardo DiCaprio Producing And Could Star In Viking Film 'King Harald'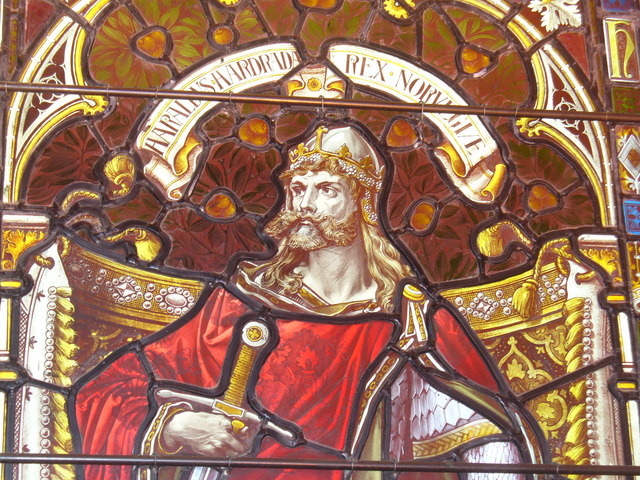 Leonardo DiCaprio's company Appian Way has optioned a script pitch called King Harald, with DiCaprio set to produce and (as these things go) possibly star. The film would be written by Mark L. Smith, with the focus on the Norse king Harald III, called Harald Hardrada (tough ruler). He was a mercenary and warrior, who while leading Norway invaded Denmark and, most famously, stormed the shores of England in 1066.
Harald is considered the last Viking king, and (spoiler!) his death in England effectively closed the viking age. A fitting subject for a film, then. But this film, suggests Deadline, may be based on an earlier point in Harald's life.
In Harald's youth, his half-brother Olaf strove to take the Norwegian throne from the Danish King Cnut (also a really fantastic, interesting figure), leading to Olaf's death and years of exile in the pre-Russia land occupied by East Slavic tribes for Harald. After time there and some pre-Crusades adventuring around Constantinople, the borders of the Byzantine Empire, and Jerusalem, Harald eventually went home and took the Norse throne for himself. Deadline suggests there's a Braveheart angle to the pitch, so it may be that exile and homecoming that serves as the center of the movie.
(In fact, Harald's return to rule in Norway has a lot more to do with family ties, deal-making and politics than it does military prowess. It would make better TV than film, so if this is the period the movie focuses on, we could see some simplification of the chain of events. There's a lot more action in Harald's attempt to secure rule of Denmark.)
This project, in a way, goes back some time. Though the pitch is new, DiCaprio has eyed a film about the Norse figures for years. Once upon a time, Mel Gibson planned to make a film about Vikings, and Leonardo DiCaprio was a potential star. That didn't work out, but perhaps this one will finally satiate DiCaprio's desire to be a Viking.