Sequel Bits: 'Star Trek 3,' 'Anchorman 2,' 'Conjuring 2,' 'Rounders 2,' '22 Jump Street,' 'Finding Dory'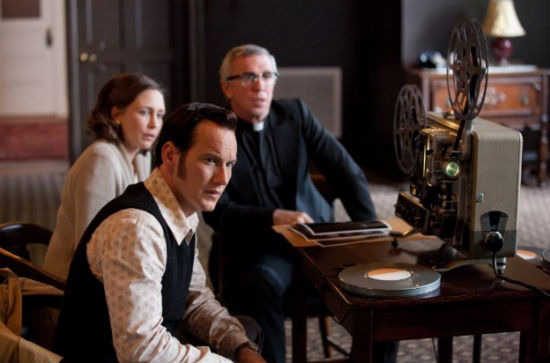 Only one day has passed but there's already another rumored front runner for the Star Trek 3 directing gig: Rise of the Planet of the Apes director Rupert Wyatt. Read about that, and lots more, in this edition of Sequel Bits:
A rumored plot has been revealed for a sequel to The Conjuring.
Karl Urban wants more originality in Star Trek 3.
Matt Damon is still open to Bourne and Rounders sequels.
Anchorman: The Legend Continues graces the cover of Entertainment Weekly.
Plus, we get our first hint of how Ron Burgundy starts the film.
Despite rumors, Tara Reid could still be in Sharknado 2.
The Smurfs 2 will feature extra footage in India.
22 Jump Street might have a big surprise cameo.
Andrew Stanton said Finding Dory originally came from a Disney request.
On Monday, a rumor was leaked that Jon M. Chu was up for the Star Trek 3 director's chair. Now, according to Cinematallica (and Collider), another front-runner has emerged: Rupert Wyatt. Wyatt did a little-seen film called The Escapist before blowing up with his great work on Rise of the Planet of the Apes. He left that franchise over the crazy schedule, signed to and left another film, and is attached to a third. So he's obviously got his choice of projects. We'll have to wait and see.
The Conjuring recently crossed $100 million in the US so a sequel is inevitable. But who'll direct and what will it be about? A tipster emailed Ain't It Cool News and told them producers might have zeroed in in another case The Warrens investigated which could end up as a sequel. Here's an excerpt:
The case file they're looking at occurs in the late '70s and centers on two sisters in Enfield, England, who were allegedly possessed. Warren said she personally saw them levitate and even saw one of the sister dematerialize in front of her only to be found 20 minutes later stuffed into an oversized fuse box, contorted in such an unnatural way that they couldn't have replicated it if they tried. She also said that the demon spoke directly to her husband on many occasions. Warren cited this case as one of the most terrifying experiences of her career.
No matter who directs Star Trek 3, Bones wants some changes. In an interview with IGN, Karl Urban talked about hoping the third film will be more surprising:
What I really believe we should do now is strive for originality. Because in Star Trek Into Darkness we took one of the most revered and loved adversaries of the Enterprise and put him in there, and did a story that had all of these wonderful nods to films from the past, and episodes from the past. I really think that what we should do from here, in my personal opinion, is strive to be original. Strive to be something different and new. You know, let's not forget that Star Trek as envisioned was about space exploration. And it would be really wonderful to harness the spirit of that and apply it to the next film, so that we do something different than a revenge-based picture.
Speaking with Latino Review, Matt Damon expressed interest in returning to both the Bourne franchise (though a Jeremy Renner sequel is currently in the works) and maybe even Rounders, though there's no real idea at this point.
The latest issue of Entertainment Weekly hits shelves later this week, and it has a brand new look at the cast of Anchorman: The Legend Continues on the cover. Check it out.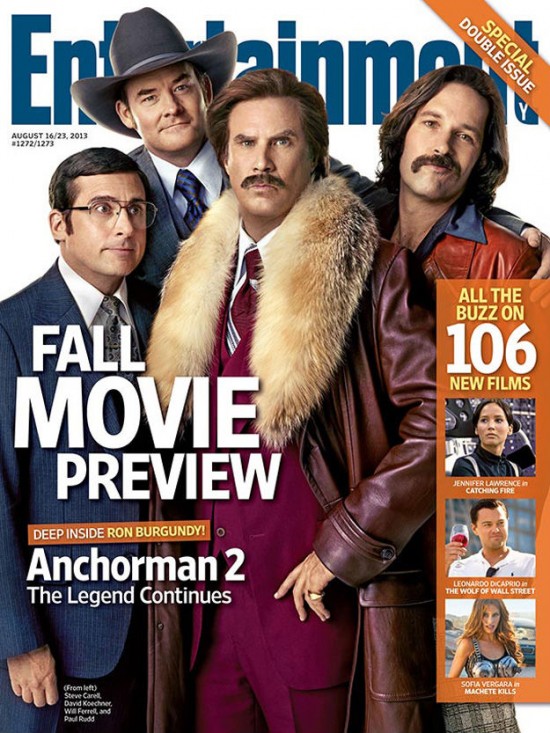 That same article offers up some new information on the film itself. Here's a quote:
Set a few years after the first movie, Anchorman 2: The Legend Continues finds Ron Burgundy — who has lost everything and been reduced to announcing the dolphin show at Sea World — getting a shot at redemption when he and the rest of the team are recruited into the new world of 24-hour cable news.
Reports surfaced earlier this week that Tara Reid would not be asked back for Sharknado 2. Well, the film's producers tell Entertainment Weekly that's not the case. Nothing has been decided yet but, if her character is in the script, she'll certainly be asked back. Kind of a weird way to word it, since the producers can specify whether her character should or should not be written in.
The Smurfs 2 came out this past weekend in the US and disappointed with a #3 opening under $18 million. According to the Hollywood Reporter, when the film is released in India, it'll include an exclusive musical number called "Na Na Na (Nice vs Naughty) by a local internet celebrity named Adhi.
Phil Lord and Chris Miller have The Lego Movie coming out and will then get to work on 22 Jump Street. The directors spoke to MTV and said they're trying to figure out a way to surprise the audience in much the same way the Johnny Depp cameo did in the first film.
Get More:
Last but not least, Finding Nemo and Finding Dory director Andrew Stanton spoke to the Los Angeles Times (via Pixar Times) admitted the original push for Finding Dory came from Disney executives. Here's his quote:
There was polite inquiry from Disney [about a 'Finding Nemo' sequel]. I was always 'No sequels, no sequels.' But I had to get on board from a VP standpoint. [Sequels] are part of the necessity of our staying afloat, but we don't want to have to go there for those reasons. We want to go there creatively, so we said [to Disney], 'Can you give us the timeline about when we release them? Because we'd like to release something we actually want to make, and we might not come up with it the year you want it.'