'Jobs' Trailer #2: What's A Macintosh?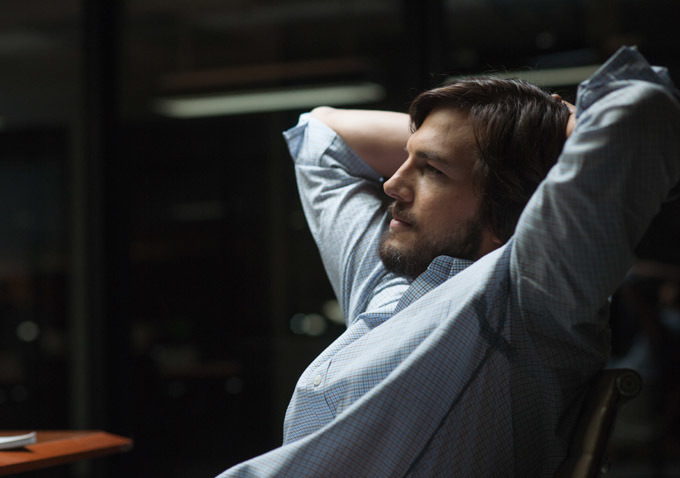 Open Road Films pushed Joshua Michael Stern's Jobs from April to August in part to give the film more opportunity to be marketed. They've used that extra time for a few offbeat stunts, like that 15-second Instagram teaser (the first one ever, the press release boasted), but now they're returning to the more traditional tactic of releasing a brand-new full-length trailer.
Ashton Kutcher stars as the iconic tech guru, following his life from the very beginnings of Apple Inc. The film received mixed reviews at Sundance, but naturally, the trailer chooses to focus on the positive. That includes an enthusiastic "excellent!" from Germain Lussier at "Splash Film" — which is not something our Germain Lussier said about the film. Awkward. See the video and follow the drama after the jump.
The use of Macklemore & Ryan Lewis' "Can't Hold Us" is pretty groanworthy, especially since the trailer tries to be cute about the "return of the Mack" chorus. (Because it sounds like "Mac," as in Macintosh, get it?) Aside from that unfortunate choice, though, the new promo is solid. It looks energetic and entertaining, with the inspirational bent we'd expect from a Steve Jobs biopic.
What's causing some eye-rolling over at /Film HQ, though, is their little blurb from "Splash Film." Not only was our site's name misspelled, our Germain was misquoted. The word "excellent" never actually appears in his real review. And on top of all that, Germain actually asked the team not to quote him in the trailer, as you can see here.
But perhaps Open Road didn't want to be upfront about it because Germain's reaction was far less positive than the marketing team would have you believe. While he praised Kutcher's performance and the "phenomenal story," he ultimately concluded that "the film feels slight because it tries to do too much." More damningly, he described the movie "the PC version of the story instead of the Apple." Ouch.
Josh Gad, Dermot Mulroney, J.K. Simmons, Lukas Haas, Matthew Modine, and Ahna O'Reilly also star. Jobs opens August 16.
We follow Steve Jobs (ASHTON KUTCHER) from the enthusiasm and self-discovery of his youth through his darkest days, brightest triumphs, and the ultimate power of his drive, his passions, and his undying will to change everything we thought possible. Dark, honest, and uncompromising, "Jobs" plunges into the depths of Steve Jobs' character, uncovering his driving motivations, his gifts, his flaws, his failures, and his ultimate successes.