Watch Part Of The 'Kill Your Darlings' Trailer, With Daniel Radcliffe As Allen Ginsberg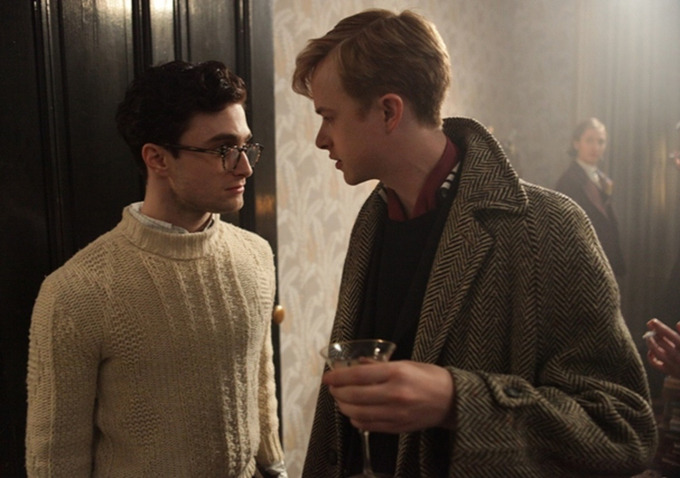 There's a 30-second clip going around today that is being billed as the teaser trailer for Kill Your Darlings, in which Daniel Radcliffe adopts an American accent to play beat poet Allen Ginsberg. In truth, this seems to be a truncated upload of the full trailer; the end of this clip is clearly not meant to be the real end of the trailer.
Still, this is a film that many of you have been curious about for some time, and so it's worth a look at the footage. We see Radcliffe as a young Ginsberg. He arrives at school and quickly falls into the orbit of the seductive, charismatic Lucien Carr, played by rising star Dane DeHaan. There's a shadow of a threat from Carr's older friend David, played by Michael C. Hall (Dexter) but you don't get to see much of that here. You also don't get to see even a hint of the film's most scandalous moments, which include a sex scene featuring Radcliffe that will make some audiences see the actor in a very different light.
In general, this story doesn't end well at all — "kill" in the title is quite literal — but this is a nice little tease for those who want to see what Radcliffe has done after the end of Harry Potter and the success of The Woman in Black. Check out the footage below; we'll update with the full trailer when it becomes available. 
The film also features Jack Huston as Jack Kerouac, Ben Foster as William Burroughs, and Elizabeth Olsen as Edie Parker. There's some really good stuff in the movie, which I caught at Sundance, though the occasional intrusion of modern music doesn't work as well as I think the filmmakers hoped. (A sort of heist scene is set to a TV on the Radio song, for example.) And while the ultimate effect of the film isn't always powerful, the cast is great to watch — Radcliffe, DeHaan, and Foster are all fantastic.
Kill Your Darlings opens on October 18.
In this dynamic portrait of the early days of the Beat Generation, a young Allen Ginsberg (Daniel Radcliffe) and William S. Burroughs (Ben Foster) become embroiled in the notorious 1944 murder of Burroughs' childhood friend David Kammerer by the object of his affection, the Rimbaudian Beat muse Lucien Carr.