'Riddick' Trailer: Time's Up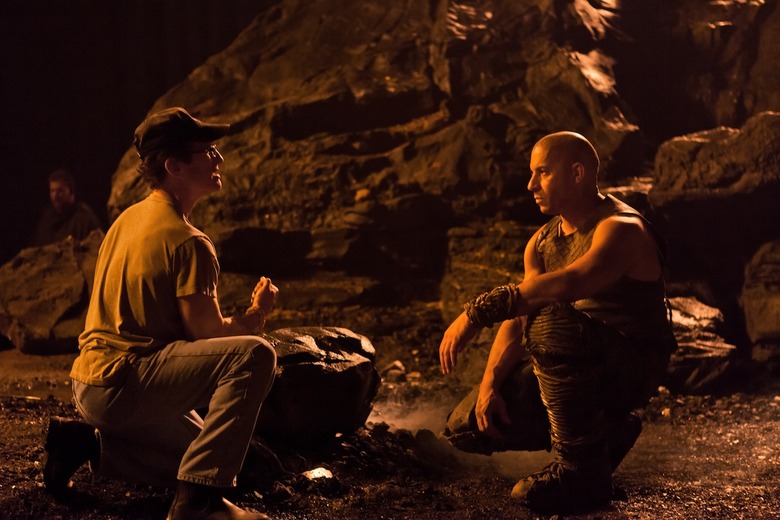 It's been nearly a decade since Chronicles of Riddick hit theaters, but surely you knew better than to bet against this fearsome Furyan warrior. Vin Diesel and his shiny eyes are back again in Riddick, the sequel coming to theaters this fall.
The new film sees our intrepid hero stranded on a desolate planet which unfortunately happens to be populated by deadly predators. His only shot at survival is to activate a beacon signaling dangerous bounty hunters to his location — and hope that they don't kill him before the monsters do. Katee Sackhoff, Bokeem Woodbine, Jordi Mollà, Dave Bautista, Nolan Funk, and Karl Urban also star. Watch the latest trailer after the jump.
I think this might be the best trailer yet, with a fun balance of impossible action sequences and sassy (if delightfully cheesy) one-liners delivered in Diesel's signature growl. Either that, or I've just seen so many trailers for this movie by this point, any resistance I might've had to this movie is wearing down. A win for Universal either way, I guess.
Directed by David Twohy, Riddick opens September 6.
In the film, the infamous Riddick has been left for dead on a sun-scorched planet that appears to be lifeless. Soon, however, he finds himself fighting for survival against alien predators more lethal than any human he's encountered. The only way off is for Riddick to activate an emergency beacon and alert mercenaries who rapidly descend to the planet in search of their bounty.
The first ship to arrive carries a new breed of merc, more lethal and violent, while the second is captained by a man whose pursuit of Riddick is more personal. With time running out and a storm on the horizon that no one could survive, his hunters won't leave the planet without Riddick's head as their trophy.