'Machete Kills' Trailer: Muy Bien Indeed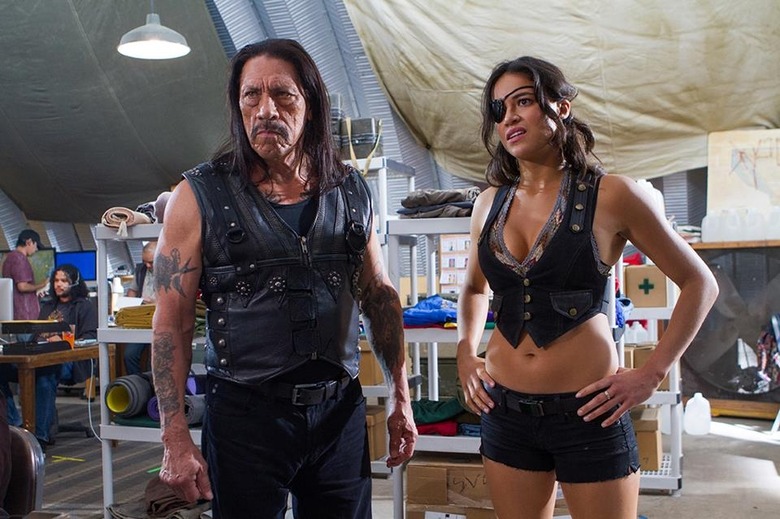 The marketing team at Apple would have you believe that there's an app for everything, but when you're a killer agent, sometimes you need your tools to be a little more hands-on. Count on Robert Rodriguez to fix that problem by hiding a blade inside the device.
That's just one of the many ridiculous sights on display in Machete Kills, which once again stars Danny Trejo as ex-Federale Machete. When a billionaire arms dealer (Mel Gibson) plans to ignite a war by launching a missile into space, the President of the United States (Charlie Sheen, billed as "Carlos Estevez") calls upon Machete to stop him. Watch the new full-length trailer after the jump.
Machete Kills features a big, starry cast, but the earlier teaser focused mostly on our grizzled hero and offered only fleeting glimpses of his co-stars. This one gives a little more screentime to the friends and foes he'll run into over the course of the plot, including Gibson and Sheen, plus Amber Heard, Michelle Rodriguez, Sofía Vergara (and her boob guns), Lady Gaga, and Cuba Gooding Jr.
If you've seen the first Machete, or even just seen the trailers for it, you likely already know what kind of B-movie lunacy to expect from Machete Kills. If that's your cup of tea, this looks like a hell of a lot of fun.
Antonio Banderas, Demián Bichir, Alexa Vega, Jessica Alba, Vanessa Hudgens, Edward James Olmos, William Sadler, and Marko Zaror also star. Machete Kills opens October 11.
In MACHETE KILLS, Danny Trejo returns as ex-Federale agent MACHETE, who is recruited by the President of the United States for a mission which would be impossible for any mortal man – he must take down a madman revolutionary and an eccentric billionaire arms dealer who has hatched a plan to spread war and anarchy across the planet.