Video Games On Film: 'Raving Rabbids' Get A Movie, New 'Heavenly Sword' Trailer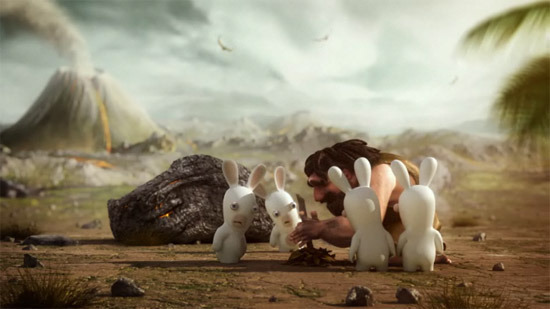 Video game publisher UbiSoft has really taken possession of the film translations of its game properties. The company has been working to develop a load of film: Splinter Cell, starring Tom Hardy, with New Regency; Assassin's Creed starring Michael Fassbender, who is also producing for Fox; Watch Dogs with Sony; and Ghost Recon with Michael Bay and Warner Bros.
Ubi has also been pushing its Raving Rabbids characters to television and other forms of merchandizing, and is now taking the little guys to the big screen. Info on that is below.
Sony, meanwhile, has some of its own properties in development, including Ratchet and Clank (teaser here), Sly Cooper (teaser here), and Heavenly Sword. We've seen one teaser for Heavenly Sword, and now there's a new one, which you can also see below.
First up, Rabbids. Here's the press release:
LOS ANGELES — February 10, 2014 — Today, Ubisoft and Sony Pictures Entertainment announced that the studios are partnering to develop a full-length feature film based on the Rabbids, the irreverent, wacky characters from the popular TV series and video games.
Jean-Julien Baronnet, Executive Director, Ubisoft Motion Pictures, and Hannah Minghella, president of Production for Columbia Pictures, offered comment on the deal:
"Sony Pictures has tremendous experience developing hybrid live-action-and-animated blockbusters for audiences around the world, which makes them a natural fit for what we want to achieve with a Rabbids film," said Baronnet. "This deal deepens our partnership with Sony Pictures and highlights our holistic approach to bringing Ubisoft's brands to new audiences while still maintaining the brands' creative integrity."
Minghella added, "There is an infectious quality to the Rabbids. Their simple joy and absurd, anarchic behavior inadvertently causes you to look at the world afresh. There's no end to the comedy and chaos they will cause when they invade our theaters."
The project will be overseen at Ubisoft by Ubisoft Motion Pictures and the group will actively participate in the film's production. Minghella and Jonathan Kadin will oversee for Sony Pictures.
And here's the new Heavenly Sword teaser, from IGN. The CG-animated film is scheduled for June. The voice cast includes Anna Torv as Nariko, Alfred Molina as King Bohan and Thomas Jane as Loki. This property still seems like a weird one to develop as a movie, but Sony likely has research to support the effort. Sadly, this trailer doesn't look any better than the first one.
Heavenly Sword is a dramatic tale of revenge that sees Nariko (Anna Torv), a fiery red-haired heroine, embark on a quest for vengeance against the invading King Bohan (Alfred Molina) and his army. Once considered the failure of a legendary prophesy, Nariko must wield a sword that was ultimately meant for another. This ancient Heavenly Sword, once belonging to a powerful deity, can never be wielded by a mortal without it slowly but inevitably killing them. For Nariko it is a race against time to avenge her clan before her life is irreparably overtaken by the omnipotent Heavenly Sword.