Cool Stuff: Preview The 'Bleeding Metallics!' Art Show At The Hero Complex Gallery In LA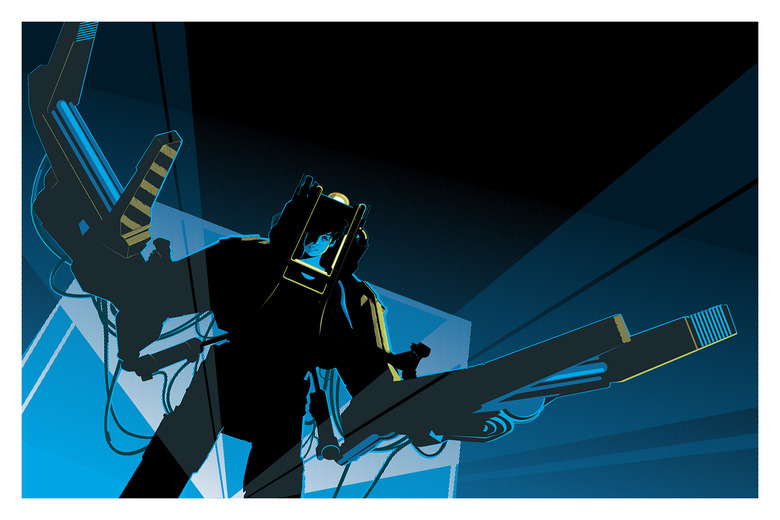 For the month of August, the Hero Complex Gallery in LA will showcase a set of pop-culture art pieces oriented around metal. The Bleeding Metallics! show will feature "artwork crafted with metallic inks, paints, papers, and metal itself." The show features work derived from Alien and Aliens, RoboCop, Game of Thrones, the Dead Space game series, the Silver Surfer, and Japanese pop icons such as the Shogun Warriors and Ultraman. A wide variety of artists will be represented at the show, and you can get a sampling of 14 pieces below. 
The show's opening reception is Friday, August 2nd, from 7-10pm at Hero Complex Gallery, 2020 South Robertson Blvd., Studio D, Los Angeles, CA 90034.
Here's more important text:
Our "Bleeding Metallics!" show, where we focus on artwork crafted with metallic inks, paints, papers, and metal itself, kicks off on Friday, August 2nd, with a show highlighting all manner of things made of metal, covered in metal or injected with metal. Robots, Mechs, Cyborgs, Spaceships, Steampunk, Suits of Armor and just about every type of metal goodness you can think of will be represented in this show!
And for those who missed out on Craig Drake's Akira-inspired piece, 'Kaneda!' on metal, we have a special surprise and will be giving the first 50 customers a free mini-print of his piece printed on silver aluminum metallic paper (pic enclosed).
There will be an online sale on Saturday, August 3 at 1pm PDT HERE.