'The Secret Life Of Walter Mitty' Trailer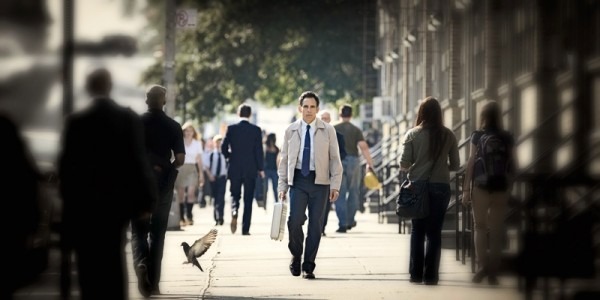 Ben Stiller's efforts as a director have been fairly well received for the most part. The zeitgeisty Reality Bites is still fondly remembered today, and The Cable Guy, Zoolander, and Tropic Thunder were each among the comedic highlights of their respective years. But his latest, the dramedy The Secret Life of Walter Mitty, may be the first time we've heard the O-word tossed around about him.
Our own Peter Sciretta was one of those buzzing about the film's awards potential after catching 15-20 minutes of it at CinemaCon. While he admitted that it was really too early to talk Oscar, his
– "a mixture of the loneliness of Eternal Sunshine, the hopeful comedy of (500) Days of Summer, and the epic bigger-than-life moments of Forrest Gump" — sounds very promising indeed. Watch the first trailer after the jump.
Here's an alt embed:
The song, if you're wondering, is "Dirty Paws" by Of Monsters and Men. It's a pretty tune, but I think my absolute favorite thing about it is that it isn't "Hey Ho" by the Lumineers.
A remake of the 1947 film starring Danny Kaye — which itself was an adaptation of a story by James Thurber — The Secret Life of Walter Mitty follows a daydreamer (Stiller) who pines for a co-worker (Kristen Wiig). He regularly escapes his humdrum life through flights of fancy, but is forced to take action for real when an actual threat approaches.
It's obviously far too soon to speak for the movie as a whole, but the trailer, at least, lives up to that CinemaCon hype and then some. It's stunning to look at, with a strikingly bittersweet, epic tone. The Secret Life of Walter Mitty opens December 25.
Ben Stiller directs and stars in THE SECRET LIFE OF WALTER MITTY, James Thurber's classic story of a day-dreamer who escapes his anonymous life by disappearing into a world of fantasies filled with heroism, romance and action. When his job along with that of his co-worker (Kristen Wiig) are threatened, Walter takes action in the real world embarking on a global journey that turns into an adventure more extraordinary than anything he could have ever imagined.