'Bad Milo' Red Band Trailer: It Came From Ken Marino's Butt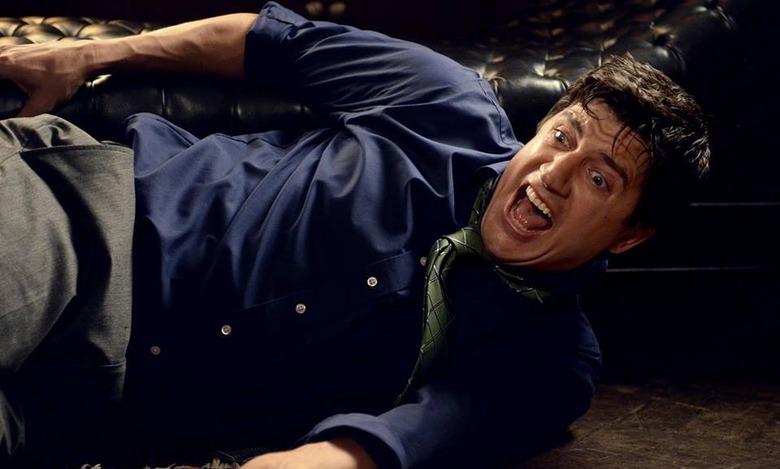 Last week saw Thomas Lennon and Robert Ben Garant's Hell Baby hitting VOD. Next month, Ken Marino will be unleashing a demonic spawn of his own in Bad Milo. And yes, I do mean Ken Marino, not Gillian Jacobs, who plays his wife.
Directed by Jacob Vaughan, the horror comedy takes the phrase "a pain in the ass" and makes it literal — and deadly. Marino plays Duncan, whose stress triggers severe gastrointestinal distress. But this isn't just your run-of-the-mill ulcer or IBS. Instead, he discovers that he has a tiny demon living in his butt, who pops out to attack people who've pissed off Duncan. Watch the red-band (NSFW) trailer after the jump.
Bad Milo obviously won't be for everyone, nor does it want to be. But if you're into this kind of thing, this looks like fun. The plotline is admirably insane, the cast (which also includes Patrick Warburton, Stephen Root, Mary Kay Place, and Peter Stormare) looks game, and the jokes are funnier than I would've expected.
THR and Variety were ambivalent about the film, but others were more enthusiastic. Bloody Disgusting wrote that it was "better than you thought it would be," with "laughs, ideas, gore and heart to spare," and the Austin Chronicle and Collider were similarly complimentary. (From Russ: I thought the movie was disappointingly tame, given the outrageous premise. But Marino's manic energy is great, and Stormare is very funny as Marino's shrink.) If the idea of a murderous butt-monster appeals to you, then, it'll probably be worth seeing Bad Milo when it hits VOD August 29 and theaters October 4.
Duncan's (Ken Marino) life is a real pain in the ass. Tormented by a manipulative, crooked boss (Patrick Warburton), a nagging mother (Mary Kay Place), a deadbeat new age dad (Stephen Root), and a sweet, yet pressuring, wife (Gillian Jacobs), his mounting stress starts to trigger an insufferable gastrointestinal reaction.
Out of ideas and at the end of his rope, Duncan seeks the help of a hypnotherapist (Peter Stormare), who helps him discover the root of his unusual stomach pain: a pintsized demon living in his intestine that, triggered by excessive anxiety, forces its way out and slaughters the people who have angered him. Out of fear that his intestinal gremlin may target its wrath on the wrong person, Duncan attempts to befriend it, naming it Milo and indulging it to keep its seemingly insatiable appetite at bay.