Want To Know Who Menaces Benedict Cumberbatch In 'Sherlock' Season Three?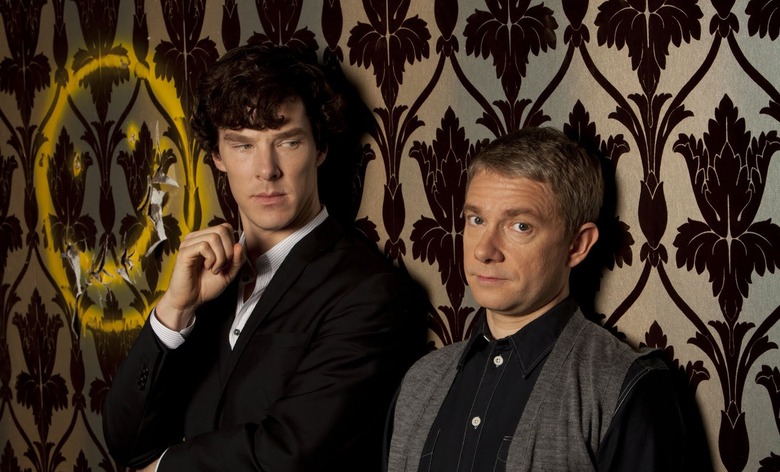 Just over a week ago at Comic Con we got a peek at this middle of the third season of Sherlock, starring Benedict Cumberbatch and Martin Freeman. We also learned a bit about how the season begins. But what we didn't know, until now, was the name of any new actor who'll be making trouble for Sherlock and Watson this time out.
Now we've got a name, for both the character and the actor. We'll keep all the details after the break; read on for a tantalizing glimpse at the next season.
First up, the show's Comic Con panel told us that the third season begins with Watson and the other people around Sherlock coming to terms with the fact that he isn't quite dead after the season two finale. That he's not dead is hardly a spoiler to us — can't very well have a new season without the title character, right? — but the characters in the show are a bit more surprised at the news.
But there's more going on than just that, of course, and there'll be at least one new villain facing Sherlock Holmes in this season. Producer Sue Vertue announced him via Twitter today. The actor is Lars Mikkelsen — older brother of Mads Mikkelsen — and his character is Charles Augustus Magnussen. That name is leading some to wonder whether or not he's a version of the Arthur Conan Doyle character Charles Augustus Milverton, called "king of the blackmailers" in the story 'The Adventure of Charles Augustus Milverton.'
Here's who you'll see when the show starts up again:
Sherlock's new nemesis – introducing Lars Mikkelsen as Charles Augustus Magnussen. #sherlock pic.twitter.com/PyEkESbXyx

— sue vertue (@suevertue) July 29, 2013
The third season of Sherlock will hit the US in early 2014, after a likely bow in the UK late this year.