Sony Commissions Two-Hour 'Breaking Bad' Documentary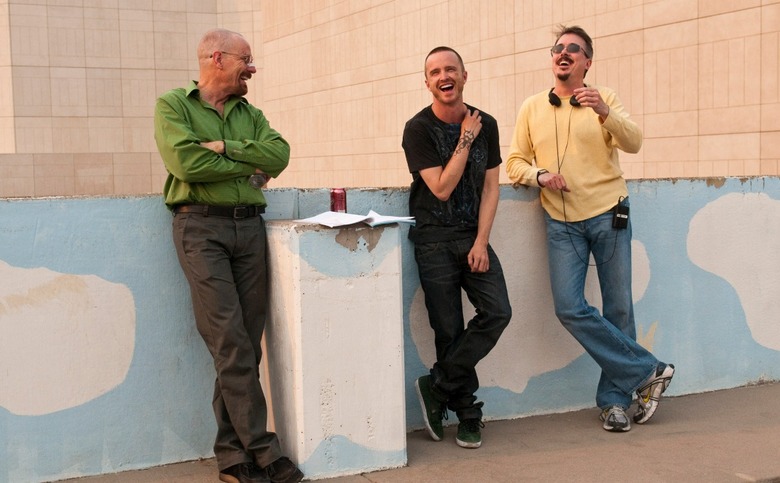 We've yet to see the last eight episodes of Breaking Bad, but having seen the first 54 it seems a safe bet that this show will be remembered as one of the greatest of our time. Series creator Vince Gilligan caught lightning in a bottle with this one, and while it remains to be seen whether he can possibly top it with his next endeavor, Sony wants to make sure we remember just how he made the magic happen this time around.
The studio has commissioned a two-hour documentary about the acclaimed drama, which will go behind the scenes and explore its history. Hit the jump to find out when and where you might be able to see it.
The documentary will consist of behind-the-scenes material from Season 5, along with archival footage from Sony. Among the many moments captured by Richardson were the preparations for the final episode. "Aaron [Paul] and I read the last script together, and that will be in the documentary," star Bryan Cranston revealed.
Although the cast has yet to see the video, Gilligan has, and he sung Richardson's praises during the event. "He has really outdone himself," he said. "It has lots and lots and lots of behind-the-scenes material, and it is really good!"
There's no word yet on when the DVD/Blu-ray set containing the documentary might be released. It'll be a wait of several months at least, seeing as Breaking Bad's season finale doesn't even air until late September. But perhaps that'll turn out to be a good thing. A year from now, when we're missing Walter White, we'll be able to pop the documentary in and bask in the Albuquerque sunshine once again.
Breaking Bad returns for its final eight-episode stretch on August 11.