Sequel Bits: 'G.I. Joe 3,' 'Fast And Furious 7,' 'Dolphin Tale 2,' 'The Heat,' 'Godzilla,' 'The Simpsons Movie,' 'Pacific Rim'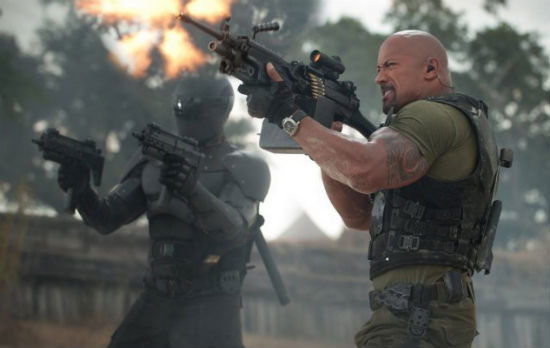 News of a new G.I. Joe film, the continuation of Pacific Rim and some crazy riffs on potential follow-ups are all in this edition of Sequel Bits. After the jump, read about the following.
Jon Chu confirms Dwayne Johnson and Bruce Willis will be back for G.I. Joe 3.
Sandra Bullock doesn't think there will be a sequel to The Heat.
Despite rumors, there are no plans to do a sequel to The Simpsons Movie.
Gareth Edwards comes up with a hypothetical idea for a Godzilla sequel.
James Wan says he'd love an electric car in Fast and Furious 7.
Mel Gibson's brother wants to lend his voice to the Mad Max video game.
Travis Beacham promises more Pacific Rim, at least in comics.
Dolphin Tale 2 gets a greenlight and the whole gang is back.
Collider spoke to G.I. Joe Retaliation director Jon Chu at Comic-Con and got the director to admit work is happening on G.I. Joe 3. Dwayne Johnson and Bruce Willis are ready to come back and they're currently looking at writers. Read more at the link, or watch the full video below.
The Heat, starring Sandra Bullock and Melissa McCarthy, was one of the summer's surprise hits and usually, that means sequel. But Bullock tells Entertainment Weekly we shouldn't hold our breath:
I know they say never say never, but right now, I can't imagine it. I don't want to ruin what Melissa and I had. If a miracle happens where [a script] shows up that really and truly outdid the first and provided an experience that was better than the first one, then I would look at it. But I'm not there.
A few weeks back, rumors began to swirl that Matt Groening and his team were looking at possibly doing a sequel to The Simpsons Movie in the next 10-15 years. However, producer David Silverman spoke to Moviefone and clarified that those quotes were incorrect.
We know Fox would love to do one, and we'd love to do one, but there's no plan to do one at the moment. There just isn't. Literally, it could change tomorrow. But at the moment, I don't know.
Gareth Edwards' Godzilla doesn't come out for another year, but he's already got a crazy idea for a sequel. Speaking to Screenrant, he dropped the following nugget:
With the exception of the 1954 original, I would say my second favorite film is Destroy All Monsters. I just love the idea of a monster island. Having a world with these creatures in it. I find that fascinating and would like to treat that realistically. I wouldn't want to limit it to one other foe, I think it's more fun to – this question will come back to haunt me if we ever do a sequel – but I think multiple creatures make better movies in terms of the image of Gojira.
It's a total joke...or is it? James Wan was speaking about Fast and Furious 7 to Empire and said he told producers he wanted to put some kind of electric car into the movie, but they did not agree.
Aussie Gamer (via Cinemablend) says Mel Gibson's brother wants to voice the Mad Max character in the upcoming Mad Max video game. Head to that site to hear some clips.
Travis Beacham, writer of Pacific Rim, promises the world will continue in graphic novel form at the very least. He also teased answers to questions from the film, such as the connection to dinosaurs, will be explored at some point. The Hollywood Reporter has more.
Finally, Deadline reports Dolphin Tale 2 has just been greenlit. All the stars, Morgan Freeman, Harry Connick Jr, Ashley Judd, and Kris Kristofferson, will be back along with director Charles Martin Smith. Read the full press release at that link.