'A Single Shot' Trailer: Sam Rockwell Has A Very Big Money Problem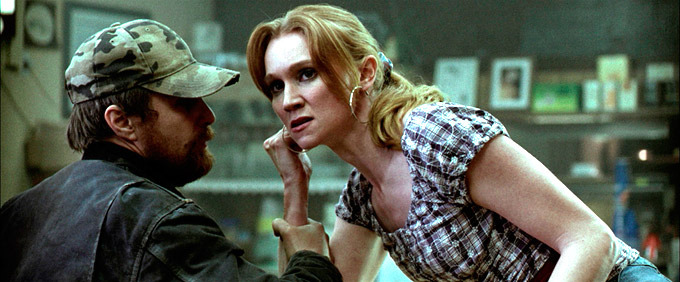 Sam Rockwell has been seen in a smiling, funny, and very good supporting role this year in The Way Way Back. Now here's the grim opposite of that appearance. A Single Shot stars Rockwell as a hunter who hits the wrong prey when taking aim at an animal.
A new trailer has been released, and you can see it below. The last trailer for the movie was a teaser that emphasized mood over dialogue; this one gives you a much better sense of who the characters are, and precisely what sort of trouble they're facing. William H. Macy shows up in a hell of a wig, and there are hints of appearances from actors like Jeffrey Wright and Jason Isaacs. But Rockwell looks like he owns the show (naturally) with an intense, desperate performance.
A Single Shot is on iTunes and VOD August 20, and in theaters September 20th
David M. Rosenthal's neo-noir thriller starts with a bang: a single shot, aimed at a lone deer, that hits and kills a young woman. The hunter, John Moon (Sam Rockwell, SEVEN PSYCHOPATHS), watches her die before discovering a box of money near her body. In a desperate panic, he takes the cash — hiring a low-rent lawyer (William H. Macy, FARGO) to fight his wife's (Kelly Reilly, FLIGHT) divorce suit — and attempts to cover up the killing. But when he discovers that the money belonged to a group of hardened criminals, the hunter becomes the hunted in this tense cat-and-mouse struggle in the backwoods of West Virginia.